Twitter has, literally, changed the way we share and communicate. Unlike Facebook, which is based almost completely on marketing ideas through social advertising, Twitter is a way of following (and even starting) trends. The use of hashtags has made this even easier, by providing quick looks into popular topics or events.
In the world of environmentalism, hashtags are really being put to work. Through a taste for activism and promoting change, they are utilized in such a way as to maximize visibility, and so there is potential for sharing across the globe. Many hashtags are so regularly used that they have tied together whole communities of those looking to promote and live a greener lifestyle.
We could show you literally hundreds of hashtags that relate to being more eco-friendly. But we have instead put together a list of the 10 most interesting, popular and useable tags currently trending on Twitter.
1. #Activism – This tag is not necessarily known for being all about the environment. But when you check it you will find a long list of posts from those who are looking to change the world, both on an ecological and a social front.
2. #Biodiesel – The topic of potential alternate fuel sources is a passionate one for many, environmentalists and laypeople alike. This hashtag keeps you up on the latest trending news, experiments and breakthroughs.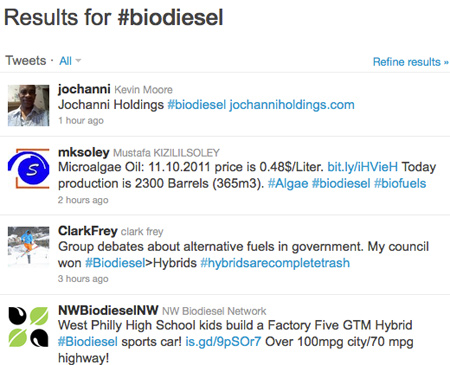 3. #Bioenergy – Along with biofuel comes bioenergy, the use of alternate form of energy for everyday tasks. This is a deeply important topic, as it becomes the focus of conferences and studies all over the world.
4. #Green – Learn about all things green and the steps of the environmental movement in modern-day society. This is a popular tag that is, literally, updated by the second, with people placing it in with news, announcements and even just various comments.
5. #Environment – From the EU Commission to citizens all over the world, this is a very popular hashtag that is used as frequently as #Green is. It is one of those hashtags for which refining your results when searching pays off with more targeted news and announcements.
6. #EcoMonday – This is a nicely spreading hashtag that is being used more and more on Twitter. It was created by Max Gladwell, who dubbed it the "#FollowFriday of Green."
7. #WaterWednesday – Want to know how lack of water sanitation is affecting residents of Sub-Saharan Africa? How about the water levels of your own region and what the local council or representatives are planning to do about it? For all things water, this is your hashtag.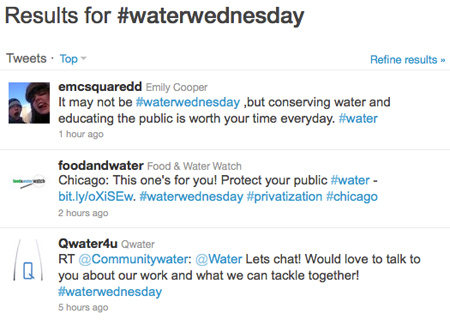 8. #Recycle – One of the cardinal rules of going green is learning to reduce, reuse and recycle. Here is a nice little hashtag that helps with the latter process, teaching you new tips and tricks as well as keeping you up to date on recycling news.
9. #Wildlife – Protecting the environment includes the protection of the creatures within it. If you are an advocate of the fair treatment of animals in their natural environment, than you will love #Wildlife.
10. #ResponsibleTravel – Anyone who is a fan of eco-tourism and responsible travel habits will benefit from this hashtag. It provides a ton of tips from organizations.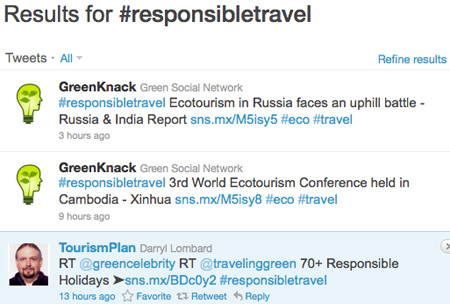 Conclusion
The Internet has given us the ability to focus on environmental issues on a global scale, something that was once nothing but a dream. Twitter has given further access to that goal, making it easier than ever to share information and categorize topics to keep track.
When you are looking to search or share, these 10 hashtags will boost visibility and make it a simpler matter to find what you need. What are some of your own favorite Twitter hashtags that further the fight for eco-health?