The race to go green has driven the construction of several enormous projects around the world. Some have failed, while others have been resounding successes. While some people have made changes in their own lives to go green, such as driving more fuel efficient cars and switching to organic produce delivery, these ambitious green buildings are on a scale that could change the lives of perhaps hundreds of thousands.
Dockside Green, Victoria, B.C., Canada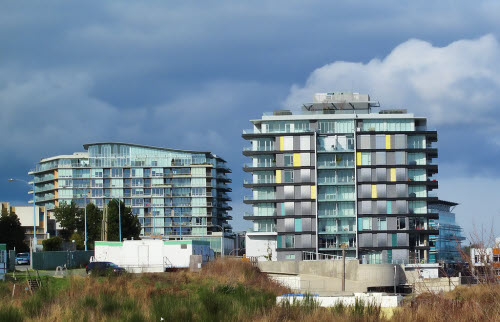 Flickr user rpaterso
There's a lot to live up to when an article from The Atlantic is titled "Is This the World's Greenest Neighborhood?"
And the answer just might be 'yes.' I'm talking about Dockside Green in Victoria, British Columbia. Besides earning a platinum rating under LEED Neighborhood Development, Dockside Green is home to a biomass gasification plant, on-building windmills and solar panels that makes the development carbon-neutral. Moreover, the community (still being built) includes its own sewage treatment and greywater recycling facilities.
Bosco Verticale vertical forest
Construction has already begun on a pair of skyscrapers in Milan, Italy that will feature a global first: a vertical forest.
Each of the 65 apartments' balconies is designed to hold around 900 small trees. Architect Stefano Boeri also says the skyscrapers will cost just 5 percent more than normal high rises. Still, there are concerns that the energy required to support the weight of the trees and soil may mute its sustainability efforts.
Bank of America Tower, New York City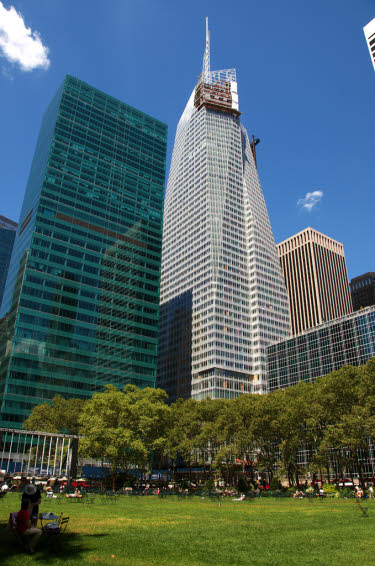 Flickr user Ed Yourdon
This $1.1 billion, 2.2 million-square foot tower was the first U.S. skyscraper to achieve a Platinum LEED certification. Here's a list of just some of the green bells and whistles it features:
Floor-to-ceiling insulating glass
Automatic daylight dimming system
Greywater system
Waterless urinals
What are some of your favorite green buildings and projects? Let me know in the comments.
This post was written by Bryden McGrath, a freelance journalist and photographer, intern, and recent college graduate from Seattle.