As a gardener, you know that the science and art behind the successful growth of any plant requires that you keep your mind sharp and full of knowledge. From new techniques to a better understanding of what the plants you grow need to thrive, you are able to continue your own growth as a gardener, allowing your continuing education to color your thumb greener every day.
If learning how to get the most out of your garden is what you're after, instructional graphics are an excellent way to visualize the end result of your efforts, whether it be constructing new beds or mixing your own fertilizer. Here are four gardening instructional graphics to get you started:
1. How to Build and Install Raised Garden Beds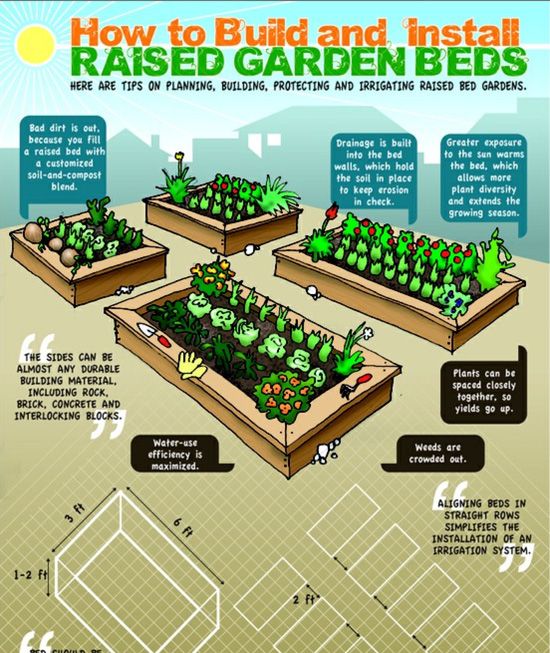 Utilizing available space to the maximum is often one of the key goals of a gardener and the best method to do this is by installing custom beds that make the best possible use of the area you're working with. As you'll see in this instructional graphic, the idea of stacking your beds is one of the simplest!
From a list of supplies to a detailed set of instructions, this graphic will teach you how to design, build and install raised garden beds, allowing you to stagger your growing areas and allowing your plants to receive more sunlight while taking up less room. The addition of commentary to the graphic will also aid you with future projects by helping you to understand why you're doing what you're doing as you do it!
2. DIY Vertical Garden
Get the full copy here Credit: Bridgman
Speaking of saving on space, another option to consider when creating beds is going completely vertical, using up almost no ground area at all!
Whether you're on an urban patio or in a spacious countryside yard, vertical gardens are a wonderful way to minimize the footprint of your plants while still getting the most out of them; this instructional graphic is a simple and effective way to get started with the idea. Everything is covered here, from collecting supplies and preparing your materials to the finished installation, making it a project that will take as little of your valuable time as possible while providing a finished product that you're sure to be very happy with.
3. DIY Garden Pom Pom Vines
Creating and maintaining a beautiful garden means having both a green thumb and an eye for design and store-purchased garden ornaments and decorations sometimes simply won't do for a creative spirit.
If you're looking for something a little more unique and down-to-Earth for your garden, this graphic has you covered! Using items commonly found around the home, the instructions found here will help you to construct great looking pom pom vines that can hang from any branch, adding a new mystique to your outdoor setup while costing you nothing but a few minutes of your time!
4. DIY Kokedama String Garden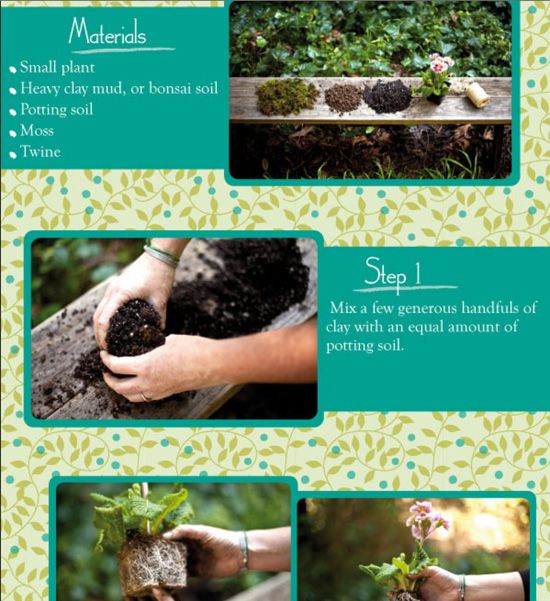 Making beautiful, uniquely presented plants isn't as difficult as you may think and this instructional graphic takes you through the steps necessary to create a wonderful Kokedama string garden, making an excellent gift or simply an eye-catching piece for your own garden.
Allowing you to use any plant you like, these instructions will teach you how to combine soil, a small length of twine and a few minutes in order to produce a wonderfully crafted plant for your garden!
Annie is the gardening amateur and online geek blogging for Talk To Tucker and spending her life online.