Over the last couple of years, environmental responsibility has reached the mainstream consciousness. It is obvious to everyone that we have to begin taking better care of our planet, and lessen the impact of the damage that has already been done.
Probably the biggest change that has to be made is how we behave as consumers. Sure, it would be better if we all started living entirely green and sustainable lives. But if we are honest, most of us just aren't up for that. We have to make smaller steps towards responsible and green living. Shopping tools that lead us to more eco-friendly businesses and tips are a good place to start.
Here are five great resources to help you out.
This helpful website is all about making changes in your life to be more environmentally responsible. One section is dedicated to shopping for green products, including a regular merchant spotlight. It will introduce you to many companies you never knew. They specialize in cleaning products, Fair Trade items, home and garden, health and energy in particular. But there are other categories with information, such as office supplies and baby products, as well. It is worth checking out the blog itself, which is written by Michael Block.

One of the easiest way to reduce consumerism and the resources needed for mass production is going with used products no longer being used by others. This is a helpful second hand site that takes big ticket items like cars, electronics and even housing and resells them. You can publish your ads for free, finding both local and national interest. Or check out what is being offered for your own shopping needs. One of the most interesting areas is the housing exchange.

This Beta program is taking people in the UK to test it out and provide feedback for the final launch in 2013. It works as a community spot for people to exchange items through freecycle, find discounts and offers and generally save money by being more responsible. They have a nice blog that will give you various tips and tricks, as well. The guides section is really useful, and there is a whole area dedicated to freebies.

Learn how to make the greener choice through this well informed website. They cover shopping and finding green labels, along with reusing and recycling, energy efficiency, resources for finding out more and a ton of other bits and pieces that can help you to live a more eco-conscious life. There are regularly updated consumer videos that you should check out. You would be shocked by the issues that are exposed in different industries, such as arsenic found in recalled rice products.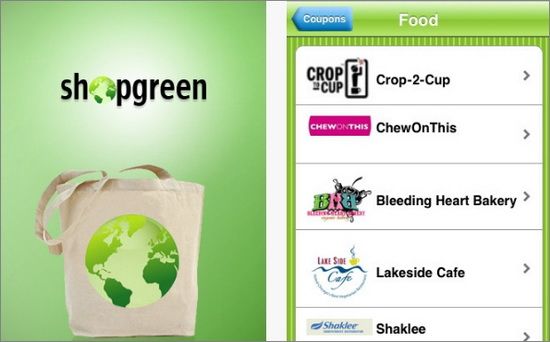 Keep a guide with you on hand, wherever you go. The Apple iPhone has an app for finding different businesses online and locally that follow standard environmental standards for protection. There is even a checklist for saving energy and resources like water, like running the dishwasher only when full, taking a shorter shower, air drying clothes, turning off unused electronics and lights, ect.
Do you know of any good tools for green shopping? Let us know in the comments!
Image credit: Sommer Poquette via photopin cc