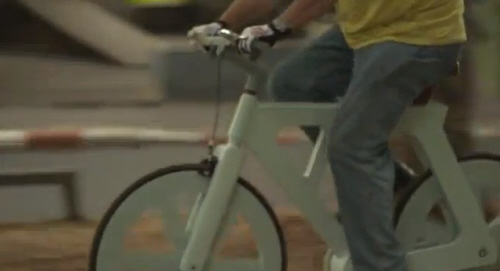 Cardboard probably isn't your ideal material for a bike. Many would laugh at the idea, imagining a flimsy bike folding, collapsing or being ruined by the slightest rain. But Izhar Gafni, an Israeli inventor, has created a bike out of cardboard that is durable, waterproof and even fireproof.
As Green As It Gets
We all know riding bicycles is not only good for your body but also good for the environment. This new bike takes this idea even further as the parts not made of cardboard, such as the wheels and pedals, are made entirely from recycled materials.
The great thing about this bike is by going green, you can save green, because it is expected to only cost around 20 dollars. In the event that your bicycle is broken or damaged, forking out 20 more dollars will be easy, and you can have your old bicycle recycled to make new bikes. There is no need for any waste.
Changing the Game
If this bicycle is successful, it will open up a world of opportunities with cardboard. Gafni believes cardboard could eventually be used to replace metal in much bigger objects, like cars. While these possibilities are far into the future, there is no doubt a sturdy cardboard bike will get people thinking, "What else can we do with cardboard?"
Gafni and his partner, Nimrod Elmish, also have a vision for the way the bike will be produced. With the support of grants that will only apply locally, Elmish claims production will not be outsourced to cheaper markets. And, because of the use of green materials, grants and rebates will cancel out production costs so the bikes can be given away for free in poor countries.
How is it Possible?
The idea of a cardboard bike may seem a little unstable, but Gafni spent years perfecting his vision. After countless hours playing with the cardboard, discovering weak points and strong points, he found himself surprised by how strong the material actually is. No contractor software was needed to build this bike.
The cardboard is shaped and cut into Gafni's design and then treated with a substance that makes it waterproof and fireproof. Gafni claims he submerged part of the bike under water for several months and it never lost its shape or hard characteristics.
If you're interested in Gafni' process for creating the bicycle, take a look at this short documentary video:
Can You Spare 20 Bucks?
Mass production of this bike is set to begin in a few months. If you're a bicycling enthusiast, or want to start bicycling, why not shell out the measly 20 dollars to give this bike a try? If the product is successful, this bike really can make a big difference not only in transportation but in the way we create products in the future.
Michelle is an aspiring writer and blogger with a passion for the Internet, specifically social media and blogging. She loves how social media connects people across the globe, and appreciates that blogging gives her the opportunity to voice her thoughts and share advice with an unlimited audience.
Image credit: Screen capture from "Cardboard bike by Izhar Gafni"