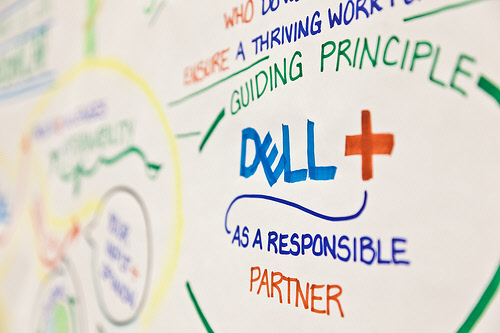 I've got to admit: I don't read many corporate social responsibility (CSR) reports any more. Not that there aren't many companies doing great things on this front; if anything, it's got a lot to do with so many corporations now issuing such reports. And, with our focus on "small," I've chosen more and more to let those who like to focus on big players – Triplepundit and GreenBiz, for instance – do the heavy lifting here.
But I made an exception for Dell this year… mainly because the company was kind enough to invite me to its Customer Advisory Panel (CAP) Day event in March (along with some other great folks in the space such as Paul Smith, Derek Markham, George Dearing, Karen Solomon, Ingrid Vanderveldt, Heather Clancy, and a number of other really impressive folks… and, yes, the company paid for our trips). The event itself was unique, in that the management folks there delivered on the promise of a conversation about their sustainability and corporate social responsibility initiatives and objectives: we all talked as much as we listened. As important, we got tons of insight into the company that Newsweek named the Greenest in America in 2010… including areas that they still found challenging.
Since I've gotten to know some of the players in the company's sustainability efforts, reading the report was a no-brainer: I'm interested in what they're doing (so kudos to the folks who conceived of CAP Days… it worked on the PR front, too!). And, as you might expect, Dell continues to impress. Some quick accomplishments (which I pulled from VP of Corporate Responsibility Trisa Thompson's blog post today):
Dell's laptops and desktops consume 25% less energy than they did in 2008
"Customers have saved nearly $6 billion through Energy Smart since 2005, avoiding more than 55 million tons of greenhouse gas (GHG) emissions"
"Began a pilot to ship Dell PowerEdge servers in mushroom packaging; mushroom packaging is dense and tough enough to protect our servers and desktops and is also compostable"
"Extended free global recycling to 78 countries and facilitated equipment drop off at more than 3,700 Goodwill and Staples locations in the U.S. and Canada"
"YouthConnect has positively affected 2 million children globally with expansion to nine countries"
"Perfect score on Corporate Equality Index of the Human Rights Campaign for seventh time in a row"
Yes, that's just a taste… you can check more accomplishments on Trisa's blog post, or in the report itself (to which I've linked below).
So, What Does this Year's Dell CSR Report Show Us?
Beyond facts, figures, and achievements, Dell's report demonstrates that it gets it in terms of a triple bottom line approach to business. It's not just involved in a few charitable efforts; rather, it's making sustainability a core part of its business strategy. As we discussed briefly in a conference call last week about the report, the company's grasped Ray Anderson's maxim of "doing well by doing good": focusing on people and planet don't undermine profitability, but enhances it.
I'm also intrigued by the notion that Dell is moving towards a service model. While I doubt they're going to get out of the business of selling computers, phones, and other electronics any time soon, Thompson notes in her introduction to the sustainability section of the report that "Dell has evolved into a comprehensive technology services and solutions provider" – and as they focus more on providing cloud-based services, they're going to continue to discover that qualities such as efficiency and durability, as well as practices such as renewable energy generation, make a ton of business sense. Of course, these qualities can make a real difference on the retail side, too: designing, say, desktop and laptop casing that could be reclaimed and repurposed into new machines would have environmental and financial benefits.
Finally, I think the company's giving efforts are really impressive, in part because they stick to Dell's strengths. YouthConnect and the Social Innovation Competition have information technology (and its potential for doing good) at their core. Both play to the company's mission of "enabling human potential" by allowing recipients to make the most of this technology… in whatever form they can imagine.
What Would I Like to See More of in Dell's CSR Reporting?
The notion of "enabling human potential" really stuck with me from the meeting in March: Thompson explained to us that Dell was focused on sustainability and responsibility as it benefited their customers – in other words, not just being a "green company," but being a company that enabled (or even empowered) its customers/clients to lower their impact (and save money). I'd love to see a bit more of this in the report. Yes, a number of the achievements they present involve customer/client benefits, but I think this concept should be the driving theme of the report… so more stories, facts, and statistics from the customer side. I say that knowing that kind of data and information is probably more difficult to gather… but also knowing that IT company has the skills and talent to overcome that hurdle. I think this would really make the report stand out… and serve as an even stronger marketing tool for the company.
No doubt there's much more I could discuss… and, yes, I'm impressed with the innovation I see coming out of this company, as well as its willingness to identify and address issues beyond compliance with regulations. Judge for yourself, though: browse through the report (it's available on Slideshare or as a dowloadable PDF) and let us know what struck you (either positively or negatively).
Image credit: Dell's Official Flickr Page under a Creative Commons license