By Jennifer Tuohy
In our Southern summer garden, we are blessed by an abundance of the most beautiful of birds: the cardinal. My children love spotting the red and tawny birds foraging in our yard, and I've been wondering for some time how best to help them feed. They don't seem that keen on my hanging bird feeders—the perches are too small, the birds too big.
Being natural ground feeders, cardinals prefer flat surfaces, but put a flat surface full of bird seed in our garden and the squirrels will consume it in moments. Because these brilliant birds are actually quite large, we decided to go for something a bit sturdier than the swaying soda bottle bird feeder I made last year. We came up with an ingenious way to transform an old log into a natural looking bird feeder that should be perfect for our cardinals all year round.
All you need for this project is some pieces of scrap wood, a log, screws, a hole saw and a miter saw.
Safety First: When using a power saw or any other power tools, make sure that you always use proper safety equipment and operate the tool following the manufacturer's specifications.
We selected our log carefully, looking for one with branches to provide a sturdy natural perch. We split it to retain just the face of the log and used a miter saw to cut it to the right size for our bird feeder.
Then, using a 2-inch hole saw attached to a drill, we cut out two holes on the log next to the perches.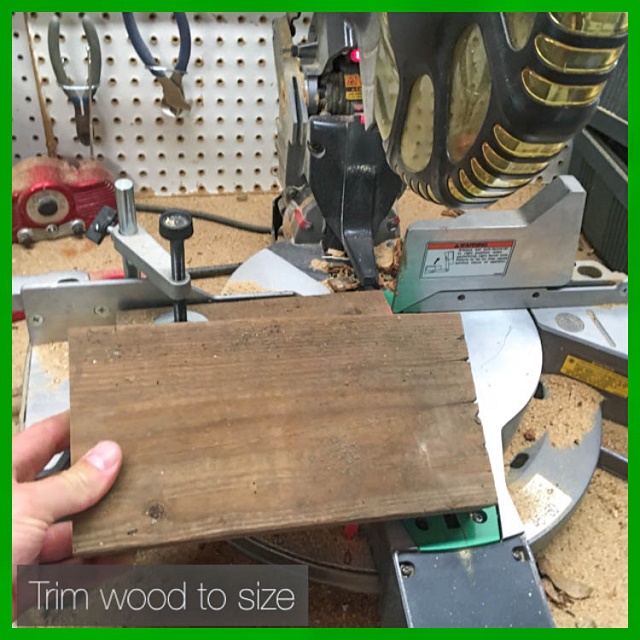 Next, we began building a box on which to attach the log. It would also hold our bird seed and provide a flatter surface from which the cardinals can feed. Working from the height of our log, we used the miter saw again to cut some pieces of scrap wood to the correct size to make the front, back, bottom and sides of the box.
We constructed the box by using a jig saw to create pocket holes in the smaller pieces of wood, so we could attach the front and back to them and leave a space in the middle for the bird seed.
Then we put matching holes in the front panel, again using the hole saw, to line up with the holes in the log and give the birds a nice safe space to feed in.
We joined the four pieces of wood together with screws to build a box with four sides and screwed the log façade onto the box, making sure to match up the holes.
Next, we added a roof to the box with a piece of wood cut to size and angled at the end to provide some protection from the elements. Finally, we gave it a quick once-over with some wood stain for added protection.
We then filled our beautiful new log bird feeder with cardinal's favorite seeds—sunflowers—simply by pouring it in through the holes. Then, we used a nail to mount it on a sturdy pillar on our porch and waited for the birds to come.
Jennifer Tuohy is a blogger and mother of two who enjoys giving new life to discarded materials and transforming them into something useful. Jennifer writes about eco-friendly DIY projects for The Home Depot. If you are planning to build a bird feeder similar to Jennifer's, and plan to use a hole saw, you can view an assortment of models here.