By Jennifer Tuohy
Upcycling generally means taking something that is worn out and giving it a new life by turning it into something different and useful. In this column, I'm going to stretch the upcycling tag a little to something that is more like "upgrading." It's still an important sustainability step, because if "upgrading" an object means you will use it longer, or be less likely to replace it before the end of its useful life, that's a win for the planet.
My dilemma was that I wanted a new rug for my home office space. I already had a simple rug that did its job well, but didn't "inspire joy" in my heart, as organizational guru Marie Kondo would say. It was a good quality, sturdy, 3 x 5 inch rug that fit the space perfectly, cost under $10 and had plenty of life left in it, so there was no way I was going to get rid of it. But what could I do to bring a little joy into my office space?
It turns out my solution was as simple as a stencil. If you don't already have an area rug that fits your space and makes you happy, consider purchasing a plain, solid-color rug, then customizing it with a pattern of your own.
Stenciling is a great way to add some personal style to your walls, rugs or other pieces of furniture—it adds a lot of bang for very few bucks. All you need is some paint, a stencil pattern and a little bit of patience, and you can create masterpieces.
It turns out there's a stencil for everything, from traditional floral and geometric patterns to puppy dogs and balloons. If you can think of it, there's a stencil for it! Once I found the perfect pattern for my rug, I bought a stencil brush. Rather than buy new paint, I used the leftover color from the walls in my office, helping tie the "new" rug into its surroundings.
Here's a step-by-step guide to how I upgraded my office rug into a true showpiece with just a stencil and some paint.
Step One: Find a good place to paint, then gather your supplies:
A plain, solid-color rug
Paint – I used regular satin latex paint, the same kind I used for the walls in my home office. This worked perfectly, because the material of the rug absorbed a lot of the paint, so I needed something thick and heavy-duty. You'll want to adapt the type of paint you use to the rug you're painting.
Paintbrush – A stencil brush is key, as you need the wide, flat head to help spread the paint evenly and precisely.
Stencil – The larger the better, especially if you have a large rug to work on.
Painter's Tape – To hold the stencil in place while you paint.
Paint Tray
Step Two: Attach the stencil to the rug with the painter's tape. Secure it tightly in place, as you don't want it to shift while you are painting.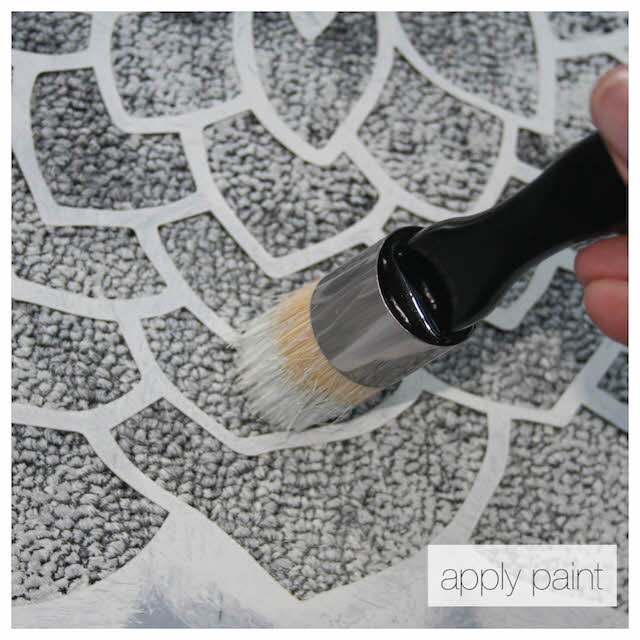 Step Three: Apply the paint with the stencil brush, dabbing it over the stencil lines and repeating until all the color underneath is covered.
Step Four: Once you're done with one shape, carefully peel the stencil up and place it in the next area you want to paint, creating a pattern over the rug. Remember, you don't need to be symmetrical or geometric—whatever feels good to you is the right way. I decided to have my pattern "fall off" the rug at the corners and I really liked the way it turned out. If you need inspiration, check out some patterned rugs online.
Step Five: Once I'd finished painting, I put the rug in the garage overnight to dry, then gave it a spray with some Scotchguard to help protect it from stains and set the paint.
Here's the finished rug in my home office. All in, it cost less than $25 for the stencil and brush to create this look, and took a little over two hours to complete. The best part is, every time I look at it there's a little flicker of joy in my heart! The next time you're looking for a new rug, why not get creative and transform a plain purchase into a personalized, patterned masterpiece?
Jennifer Tuohy is a talented DIY crafter who makes her home in Charleston, South Carolina. Jennifer is a longtime upcycler, and has written many articles for Home Depot. If you are researching an area rug to stencil, you can visit Home Depot's online collection here.