By Jennifer Tuohy
If you're lucky enough to have the know-how to change your own oil, not only are you saving yourself a pretty penny every 3,000 miles or so, but you are also probably amassing an impressive collection of empty motor oil bottles.
These sturdy containers present something of a recycling challenge. They can't be disposed of with your usual plastics due to the risk of contamination from the oil residue. Even if you wash them really well, the oil seeps into the plastic and can be hazardous. The best way to recycle them is to take them to a specific motor oil recycling facility. Usually, your local garage will accept them as well. However, these bottles are very sturdy and well-made and, being the avid upcycler I am, I wanted to find a way to put them to a good second use.
Because of the potential contamination, these bottles needed to stay in our garage. So I brainstormed with my husband, the overlord of our garage, and came up with a neat idea to use them as a nail and screw storage system. My husband was thrilled with this idea. As organized as he is in his garage, his current nail and screw storage system definitely needed an upgrade:
So, we got to work fashioning a simple storage system out of some plywood and empty motor oil containers.
The first step was to wash the empty bottles in hot soapy water. We'd made sure all the oil was out by leaving them upside down over a plastic container for a while to drain every last drop.
Then, with a sharp knife, we cut out one side of the bottles to easily be able to store the nails and screws inside.
Next, we stacked the bottles on top of each other in the order we wanted the final storage system to use and measured the height and width. We added a half-inch multiplied by the number of shelves we were using (three), and cut out seven pieces of plywood to those measurements using a miter saw.
We drilled holes along the sides of each piece where they would be joining the other pieces using a Kreg jig, and then built a box, leaving the front open.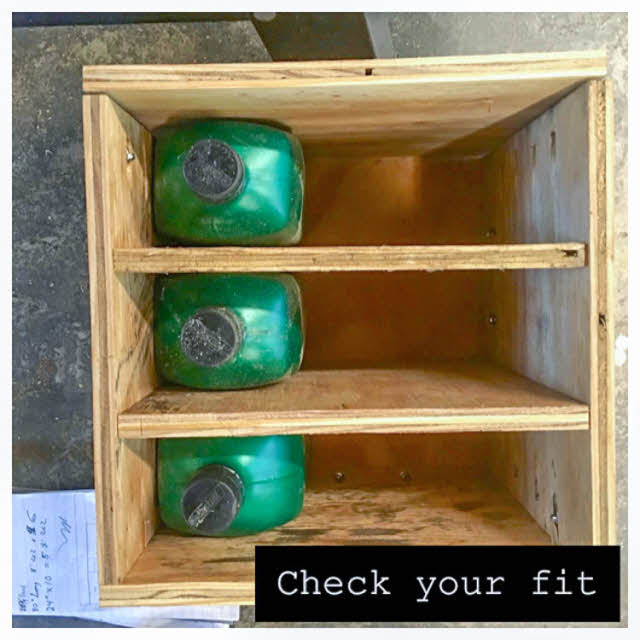 We then attached the interior shelves and the bottom panel, making sure the measurements were correct as we went by placing the bottles in the shelves to ensure a good fit. You want them snug so they don't move around, but so tight that you can't easily pull them out.
Then we attached a sturdy handle to the top for ease of transport, as we want to be able to move it around to different projects, and once the bottles are full the box is quite heavy. Finally, we filled up all the bottles with the nails and screws we wanted to store and we were done! A simple, eco-friendly storage system for the garage.
Jennifer Tuohy writes for The Home Depot on upcycling projects she creates at her home in Charleston, South Carolina. For motor oil products available at Home Depot, whose containers you can also upcycle, you can visit Home Depot's website.