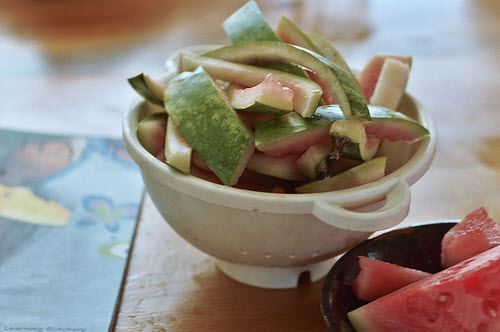 Food waste is at an all-time high in America today. In fact, a recent study published by the National Resources Defense Council (NRDC) estimated 40 percent of food in the United States is thrown out and left to rot in landfills. This accounts for a loss of approximately $165 billion each year in natural resources and labor. While restaurants, grocery stores and cafeterias all are major contributors to this problem, families like mine and yours also must take responsibility for our part, and commit to improving.
Reheating leftovers and freezing extra portions seem easy enough to do. The challenge for me is knowing how to cook uncommonly used parts of produce like peels and rinds. Watermelon is a summertime crowd favorite, so, I figure I'd dig a bit deeper in learning how to enjoy the rind as well as the flesh.
A fun fact about watermelon is some people categorize it as a vegetable rather than a fruit. It's a close relative to squash, pumpkin and cucumber.
I'll be the first to admit I've been guilty of discarding watermelon rind in the past but never again. They are filled with vitamins B and C, zinc and potassium. Researchers also have discovered they help keep your skin looking youthful and your immunity strong. Rinds contain ciltruline, an amino acid which relaxes blood vessels and improves your body's circulatory system.
Watermelon Rind Agua Fresca Recipe and More Ideas to Prepare an Overlooked Health Booster
From Asian to Southern American cuisines, watermelon rind can be used in an array of dishes. It is often
Diced and pickled to accompany grilled foods and cheeses;
Added to salads or slaws for a crunchy texture;
Sautéed with vegetables in stir-fries;
Paired with fresh herbs in salsas, chutneys, relishes and soups;
Blended in smoothies.
And my personal favorite is making watermelon rind agua frescas, which translates to "fresh waters" in Spanish. I like to toss a handful of rinds with seedless watermelon flesh, strawberries and lime juice in the blender to make a refreshing drink for the entire family. You then can easily turn this beverage into a healthy adult cocktail by adding in your favorite alcoholic spirits. If you prefer a smoother consistency, I recommend pouring the mixture through a fine mesh strainer to remove excess fruit pulp.
If you still aren't convinced to eat watermelon rinds, you may consider making a serving dish or keg from the shell of the fruit. The rinds should last a week or so in the refrigerator. The recipe combinations and uses are endless with this oftentimes ignored part of the produce. You can be assured you're getting the most nutrients for your money and not wasting food.
Have you ever eaten watermelon rinds? Do you have a favorite watermelon rind recipe? I'd love to hear from you in the comments.