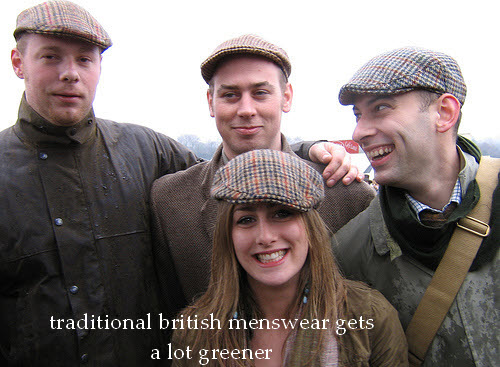 As part of this month's SOURCE Brand Preview, I had a chance to listen in as designers, buyers and company owners shared exclusive information about the direction of their brands. I thought it was particularly interesting to learn how menswear designers are working to knit a greater niche in the sustainable fashion world for guys. Eco-fashions make up about 7 percent of retail sales, with 5 percent dedicated to ready-to-wear women's fashions. You can do the math and figure only 2 percent is left for menswear brands and children. There are many reasons for the lack of sustainably-made clothing options for men, including a shortage of designers creating looks for men, less demand for the garments and fewer companies willing to invest money in the sector.
In the past we've seen eco-friendly clothing designed mostly for teenagers and guys in their early 20s, but Cock & Bull & Co. intends to close the gap. The brand caters to gentlemen who want to look stylish and be accountable for the effects of their purchases on others and the environment. Launched in September 2012, Cock & Bull is the first sustainable boutique in the United Kingdom to offer menswear collections made entirely in London and from organic, recycled and reclaimed textiles.
The London Fashion Week and Ethical Fashion Week Berlin newcomers are gaining lots of attention for their sophisticated, hand-woven tweed hats and waistcoats (vests). A team of artisans meticulously sews each piece from the finest wools and weaving yarns. The linings are a blend of organic hemp and silk and no chemicals are used in the dyeing processes. While this brand is all about dressing guys in environmentally-conscious, timeless classics, they didn't forget to revamp wardrobe basics of shirts, jeans and underwear.
Craftsman-like Details and Fresh, New Designs are the Latest in Men's Fashions for Young Professionals
Following the core value of "do less harm, do more good," Arthur & Henry believes every man needs an ethically-made, contemporary dress shirt for the office, on date nights or out with friends. Clare Lissaman, one of the brand's founders, shared during the SOURCE webinar how she and brother, Mark, help disadvantaged Indian communities overcome poverty. The brand employs skilled tailors to sew their beautiful shirts and sources organic and fair trade cotton from local farmers. Furthermore, a portion of every sale is donated to charity. Whether your guy's style is casual or more refined, this proud Britain brand is sure to have a linen shirt or pair of cufflinks to meet their fashion preferences.
I couldn't leave out hip and edgy brand Rella, as they are using "the power of cool" to attract the 30 and under crowd to sustainable fashions. Maryam Mazraei, the brand's director, explained how their designers have full control to create kaleidoscope-inspired print shirts with thumb holes and more. Be on the lookout for newly-debuted Rella—a company helping to rebuild Dhaka, Bangladesh after the fashion industries past mishaps.
What are your favorite menswear designers and/or brands? What do you think are some ways we can help the market continue to grow?
Image credit: Charlie Evatt via photopin cc