By Janet Larsen
In recent years weather events have whiplashed between the extremes of heat and cold, flooding and drought. Carbon dioxide and other greenhouse gases—largely from the burning of coal, oil, and natural gas—have loaded up in the atmosphere, heating the planet and pushing humanity onto a climatic seesaw of weather irregularities. High-temperature records in many places are already being broken with startling frequency, and hotter temperatures are in store. Without a dramatic reduction in fossil fuel use, we will veer even further away from the "normal" temperatures and weather patterns that civilization is adapted to.
The world has warmed by 1.4 degrees Fahrenheit (0.8 degrees Celsius) since the Industrial Revolution, with most of the rise in temperature coming since the 1970s. Such rapid warming is unprecedented over at least 20,000 years. The average global temperature in 2012 was 58.2 degrees Fahrenheit (14.56 degrees Celsius). This sets it among the 10 warmest years on record—all of which, according to NASA data dating back to 1880, have occurred in the last 14 years. (See data.)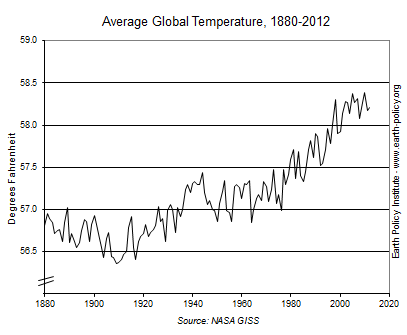 The two headline-dominating weather events of 2012 both occurred in the United States: the intense summertime drought and heat that baked the country's midsection and Superstorm Sandy, which clobbered the East Coast in late October. Overall, 2012 was the hottest year in U.S. history, topping the twentieth-century average by more than 3 degrees Fahrenheit.
After a winter that never seemed to take hold over much of the United States&‐with snow coverage across the lower 48 states the third lowest on record—summer-like weather arrived in March. Close to 15,000 new high-temperature records were set. Thus began the warmest spring in U.S. history, setting the stage for further high temperatures and an epic drought.  July 2012 was the hottest month ever in the continental United States, according to the National Climatic Data Center. A third of the U.S. population witnessed summer temperatures of 100 degrees Fahrenheit or higher for 10 or more days. At its peak, drought covered nearly two thirds of the country. Power plants shut down because of the lack of cooling water. Low water levels disrupted Mississippi River barge traffic. Crops withered; corn yields in key producing areas were cut by a fifth or more. Purdue University economist Chris Hurt estimates the cost of the drought could exceed $75 billion. And with drought lingering into the new year, particularly in the Great Plains, the odds of a second year of harvest shortfalls are increasing.
The other most expensive weather event of 2012 was the opposite precipitation extreme: Superstorm Sandy. Sandy was number 18 of 19 named Atlantic storms in a season that began even before its official start, with two storms forming in May. After bringing heavy rain to the Caribbean and killing 72 people, Sandy merged with a winter storm, transforming into a meteorological chimera. Rather than travelling a more typical pathway out to sea, Sandy made an abrupt left-hand turn to make landfall on the U.S. East Coast. Fueled by high sea-surface temperatures and loaded with extra moisture due to warmer air temperatures, Sandy brought more than a foot of rainfall to parts of the mid-Atlantic region. Coasts from Maryland to Massachusetts were hit by a tremendous storm surge that in Lower Manhattan reached more than 9 feet above the normal high-tide level. In New York and New Jersey close to 100 people died, and more than a half-million homes were damaged or destroyed. Blizzards blanketed parts of Appalachia with the most snow ever recorded for a U.S. storm in October. Costs are still being tallied, but state governments report damages of $62 billion.
Some scientists propose that Sandy was pushed onto its unusual trajectory because of changes in atmospheric circulation caused by the loss of sea ice in the rapidly warming Arctic. As the Arctic's reflective ice cover shrinks, more heat is absorbed, resulting in a smaller temperature differential between the North Pole and higher latitudes. This can cause the jet stream to slow down or become more wavy, stalling typical weather patterns and leading to prolonged extreme events. The regional warming is also accelerating ice melt on Greenland, which contains enough water to raise global sea level by 23 feet (7 meters). In late May 2012, southern Greenland reached a balmy 76.6 degrees Fahrenheit. In mid-July, 97 percent of its surface area showed signs of melting.
Next Page: Extreme Weather Around the World in 2012
Image credit: Occupy Sandy via photopin cc