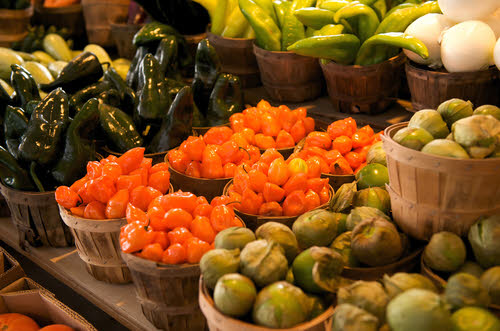 The post is sustainablog's contribution to Blog Action Day 2011.
In a relatively few years, farmers markets have become fixtures in many US communities: the combination of fresh, local food (at reasonable prices), direct access to farmers themselves, and communal spirit of these events makes them irresistible to many of us. For farmers selling "specialty" crops (which, in "official" American agricultural parlance means fruits and vegetables), these markets provide another avenue for revenue, as well as a chance to share their work consumers (something that just doesn't happen at the grocery store).
In the US, these markets create a good arrangement for those of us who want to choose fresh, local, and (often) organic produce. In places like Tlaxcala, Mexico, this same sort of market — the Alternative Market of Tlaxcala — is providing sustainable economic opportunity in the region, especially for rural women who find themselves short on time, money, and adequate healthy food for their families.
Food, the Environment, and a Local Economy
The market itself is a culmination of efforts to protect biodiversity, encourage low-impact agriculture, and provide entrepreneurship opportunities in the region. The Integrated Rural Development Project (PRODERI) of Vicente Guerrero in Tlaxcala, for instance, has been in the area since 1990, and "has trained local women in agroecological, soil use, and biofertiliser techniques. In their backyard gardens, they grow vegetables, medicinal plants and fruit, and raise chickens and pigs." The Alternative Market, opened in 2005, was organized to provide a centralized location for the sale of produce, products, and prepared food that resulted from the new agricultural approaches. Women entrepreneurs particularly are funding their efforts through a combination of government loans, and then reinvestment of profits back into their businesses, which allows them to purchase equipment, or otherwise expand their efforts.
With the onset of the global economic slowdown in 2008, this kind of organized, community-based effort has allowed families in Tlaxcala to stay afloat — even when staple crops like wheat and corn fail (as they have this year – a freeze hit the region last month). Food — local, native, sustainably-produced food — and community effort are creating an environment in which the people of this region can survive, and even thrive just a little bit, in the midst of economic and ecological uncertainty.
Interested in finding out more? Check out Inter Press Service's feature on the Alternative Market, and the way its serving the community.
via Organic Consumers' Association and truthout
We're not the only Important Media blog participating in this year's Blog Action Day: check out posts from the other sites (thanks to Eat.Drink.Better. for keeping track!)
Image credit: Dallas Events, Inc./Shutterstock