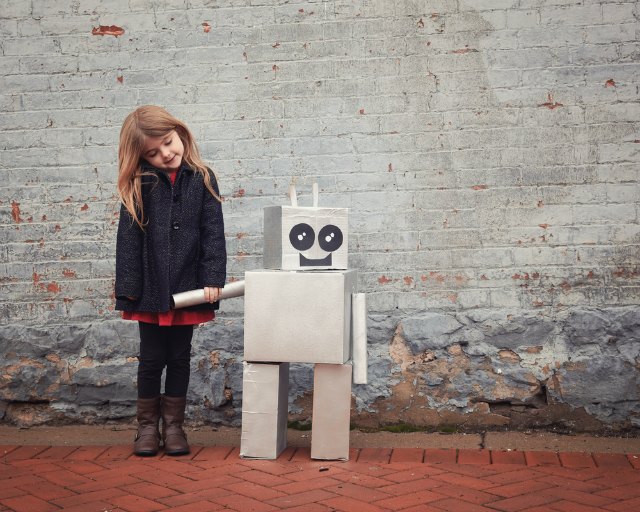 By Julia Marchand
As little ones enter the toddler age and become more aware of their surroundings, they will be curious about nearly everything that comes within their field of vision. A newly found mobility suddenly brings everything—from cabinet doors, to recycling bins—within their reach. Since they learn through play, it's only natural that toddlers would be eager to play with the things they find.
Although you may have a playroom full of toys, young kids will still be interested in exploring what seems boring to us (for example: trash). As long as you make sure any unsafe waste is well out of their reach, there really isn't any other reason they can't explore your family's cleaned cast-offs. In fact, there are several hidden benefits in helping children turn trash into treasure. Little ones who are allowed to safely explore certain waste items will:
Be encouraged to use their imagination
Find an alternative use for trash, thus reducing waste
Learn resourcefulness and problem-solving skills
See that packaging doesn't just disappear after its original purpose has been fulfilled
So how do we embark on this upcycling journey? First, we must address safety concerns. Be sure to only share items with children that are not sharp and have not held any hazardous materials. Clean and inspect each item carefully before presenting it to your toddler. After that, use your own imagination to help decide and execute a fun new use!
Here are a few ideas for DIY toys to get you started:
1. A musical shaker: An old raisin or oatmeal container can be quickly upcycled into a musical instrument simply by putting items (like dried beans or rice) inside that will rattle around when shaken. Since these can be a choking hazard, you will want to secure the lid with glue or strong tape (like packing or duct tape). If you want a slightly more polished look, try covering the outside with used wrapping paper (more landfill diversion!) and securing in place with double-sided tape.
2. Cereal box blocks: When it comes to cardboard, the possibilities are truly endless! Turning old cereal boxes into blocks (a timeless crowd pleaser) is a great way to repurpose this common waste item. And every week your collection can grow! It's as simple as finding a cube template online, printing it out, tracing, cutting and assembling the blocks with the help of tape or glue. If you have older children, they may even be able to do this on their own to help create new toys for their younger brother or sister.
3. Plastic bottle gardening tools: Merge two common toddler interests—recycling items and dirt—by creating gardening tools for your toddler from used plastic bottles. Cut the top third off of a bottle to simultaneously create a funnel and a small bucket. Draw a hand cultivator or trowel onto the plastic in permanent marker and cut that out to add to your tool set! A gallon jug with a handle could become the perfect watering can to round out your gardening set. Sand down any sharp plastic edges with sand paper before handing over your creations, then head to the garden to do your own weeding and harvesting while your little one is entertained nearby!
Not only will your toddler have fun playing with these unique upcycled toys, but cultivating an environment at home that encourages creative reuse of waste items will shape the foundation for an eco-friendly outlook for later in your son or daughter's life.
Julia Marchand is a sustainability and parenting writer for eBay who loves teaching her toddler how to live a greener life.