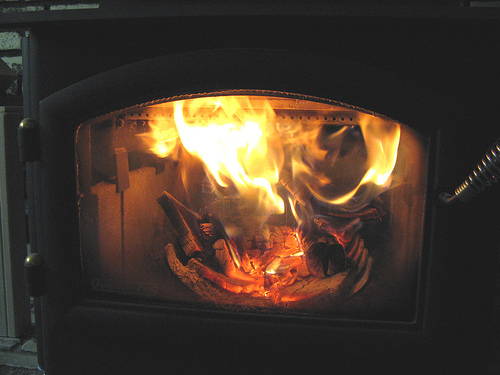 There's more than one way to skin a cat, and there's more than one way to build a fire. But that doesn't mean they are all equal: the top-down fire (or upside down fire) is perhaps the most efficient and cleanest way to build a fire.
You can use this method when you build a fire in your small wood stove, your big wood furace, at a campsite, or basically any place you would have reason to burn wood. Here I will describe how to do it.
How to Build a Clean, Top-Down Fire
Remember all of those smoky attempts at getting a fire going during those camping trips? Or do you ever struggle to get a fire going quickly when you light your wood stove? Well, I can guess that, in those cases, you were probably trying to light your fire from the bottom, stuffing kindling and paper under a pile of heaping logs.
The top-down fire is basically the exact opposite of that mess: a bed of bigger logs, with smaller wood placed atop that, and kindling and paper at the top, where the fire is lit, and then burns down the pile. Simple. Effective. Clean.
A top-down fire is superior in that it is much more clean-burning than any other type of fire building. It enables complete combustion of the gases, resulting in less smoke, less wasted heat energy, and faster (and thus, hotter) burns.
The more technical reasons why top-down fires are cleaner burning can be read here. It's worth a read! But all you need to know boils down to this: top-down fires are more efficient, because they allow for complete combustion of the wood, and thus, less smoke.
Here's a (slightly wordy) video that describes how to build a top-down fire:
Image credit: flickr via RichInMN