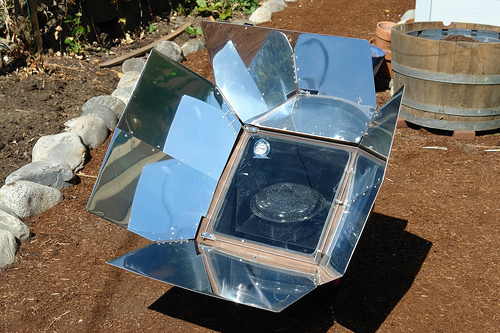 Cooking food requires valuable energy, whether you use a gas or electric range and oven, or a wood stove. And that energy can come at a high price, too. But there are cheaper ways to cook your food that require little beyond the light of the sun. You can save either burning wood or precious fossil fuels and money by building your very own cheap solar oven.
Solar cookers are simple boxes that collect the energy of the sun to cook food. Commercial sun ovens* can cost a couple hundred dollars, but you don't have to pay lots of money to be able to harness the power of the sun to cook your dinner. You can make your own with this simple set of instructions.
In an afternoon, for $20 or less, and with little more than some cardboard boxes, tin foil, newspaper, and some glass, you can construct a solar cooker. Granted, it won't be the swankiest solar box cooker on the block, but this model will give you an idea of what is possible, and it would make for a very valuable learning tool, too.
Solar ovens are obviously limited in their effectiveness, since it must be a sunny day to be able to use one, but they are fun and educational, and help to save energy by using a very renewable resource: the sunlight!
Want some ideas on what to cook in that solar oven? We've got a ton of cookbooks, as well as organic baking supplies, spices, herbs, and oils available in the Green Choices store.
Image credit: Flickr via RJL20
*Link to the sustainablog Green Choices store