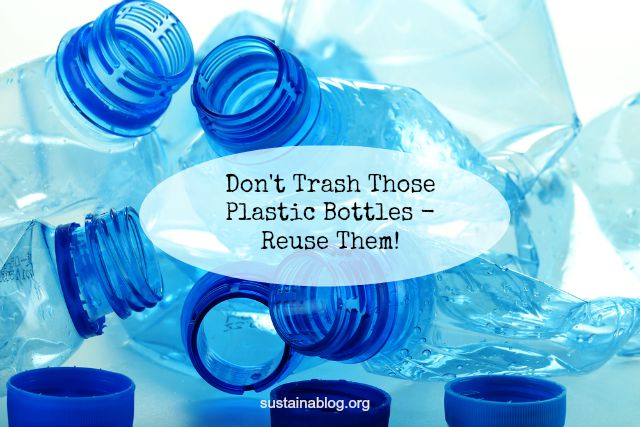 Pretty much any time we've pulled together a collection of reuse and upcycling projects, at least one involves plastic bottles. Not only are these items versatile, but they're also readily available: Americans throw away 2.5 million of them every hour. Yes, most of them are recyclable, but, as Becky Striepe pointed out over at Care2 (and as we've noted ourselves a number of times), not infinitely: in fact, most plastic will get one more round of life as a lesser product, and then it's landfill bound.
So, as a consumer, the best thing you can do to lessen our dependence on plastic bottles is to buy less of them. As an environmentalist, you may want to figure out ways to reuse plastic bottles. They'll still end up in the landfill eventually, but crafty upcycling will probably get a bit more life than many of the recycling options.
How Not to Reuse Plastic Bottles
Generally, as many have pointed out over and over, reusing a plastic bottle as a drink or food container isn't always the best choice: many plastics (especially those that contain BPA) can leach nasty stuff into your food or drink. But there are still lots of things you can do with those bottles… you may even want to start raiding neighbor's recycling bins (please note I'm not encouraging that… just mentioning the possibility that this could happen!).
13 Plans and Projects for Plastic Bottles
Know of other plans, projects, and idea we missed? Share them with us in the comments…
Photo credit: Shutterstock