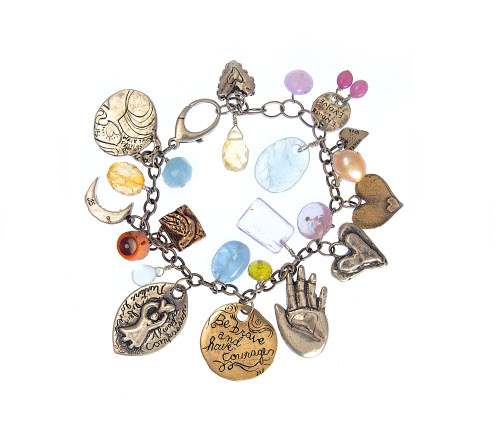 Jes MaHarry has been a creator of sustainable, hand-crafted jewelry collections and a leader of mix-media design for more than two decades. Collectors and customers alike are drawn to Jes' signature style of "finding perfection in what is imperfect" and combining unlikely pairs of raw and refined resources to make one-of-a-kind pieces.
Jes and her team of local artisans use only environmentally and people-friendly materials like reclaimed and recycled metals, conflict-free stones and non-treated gems, beads, feathers, shells, etc. in their collections. Her newest design is limited edition leather cuffs made from recycled horse harnesses and totemic charms.
Every handmade piece is created as an extension of Jes' heart, and many are chosen as part of the Jewels of Kindness program which helps to bring goodwill to charities ranging from animal to human rights to environmental issues. Charity and special event organizers are welcomed to contact Jes' studio for potential fundraising opportunities.
"With all the goodness that fills my life, I am always looking for ways to give back and create uplifting change," Jes noted on her website. She added, "After all, what is the point of this life without exchange, without being able reach out to each other in a time of need?"
The latest expansion of Jes' clothing, fragrances, body oils and accessories lines have given her more avenues to be more eco-friendly and socially responsible. Her locally hand-sewn clothing is produced from 100% organic fabrics and dyed using low impact natural pigments. Her line of oils and fragrances are mostly derived from wild or organic plants, and the accessories are adorned with recycled and reclaimed glass, cardboard and solid pine.
You can create your own collection of Jes MaHarry's handmade, eco-friendly creations by visiting her website and social media pages, finding her jewelry in the Sundance Catalog, and/or in boutiques near you.
Images courtesy of Jes MaHarry