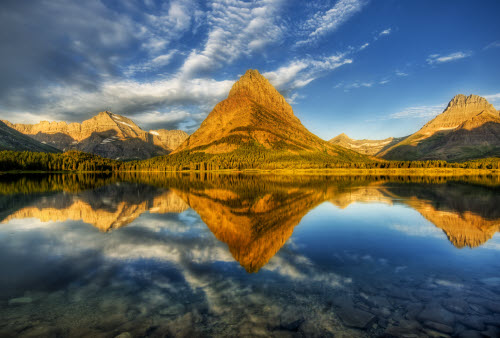 This past week, NBC News reported on a rather upsetting trend among national parks visitors. It seems that instead of the young backpacker often associated with national parks, the average national park visitor is actually middle-aged.
In Rocky Mountain National Park, for instance, the average age of a visitor is 46. In Yosemite National Park, only 11% of visitors are in their 20s. And in Yellowstone that number is down at 6%. By comparison, a 1996 study conducted in Death Valley National Park revealed that almost a third of visitors were in their 20s.
So why are these statistics such a problem? Well, it could mean less support for national parks in the future. Once older generations of park goers become unable to travel, who's going to visit the parks? How will the parks continue to maintain a steady source of revenue?
Even more worrisome is the fact that if future generations don't appreciate national parks, the parks may lose some of their political protection and government funding. After all, politicians respond to the will of the populace. And if the populace doesn't care about national parks…
The National Park Service Responds…
Fortunately, the Park Service has recognized this growing threat and is launching an initiative to counter it. Part of the Service's Connecting People and Parks program is designed to attract children and young adults to the national parks. Some of the ideas floating around include incorporating more student programs into the park system and creating web and mobile applications that allow visitors to stay in touch with the parks before and after they leave.
The program also includes ideas about marketing the parks to an urban audience. For instance, instead of just pushing the big parks, the Service should emphasize that the National Park System also includes many local historical and heritage sites. The idea is to use these smaller venues as places to teach people about the larger parks and the National Park System in general.
We can all show our support for the park system by visiting national parks, telling our friends and families about why they're important, and supporting the parks with our votes. The National Park System has been crucial to preserving our natural and historical heritage for over a century and is even more crucial today. It deserves our protection now and in the future.
Brian writes for the dental care professionals at A Beautiful Smile at Lakepointe in Sugar Land, Texas. Though not known for its scenic enchantments, Sugar Land is actually located only a short drive away from eight national wildlife refuges, the Sam Houston National Forest, and the Padre Island National Seashore. 
Image credit: Stuck in Customs via photo pin cc