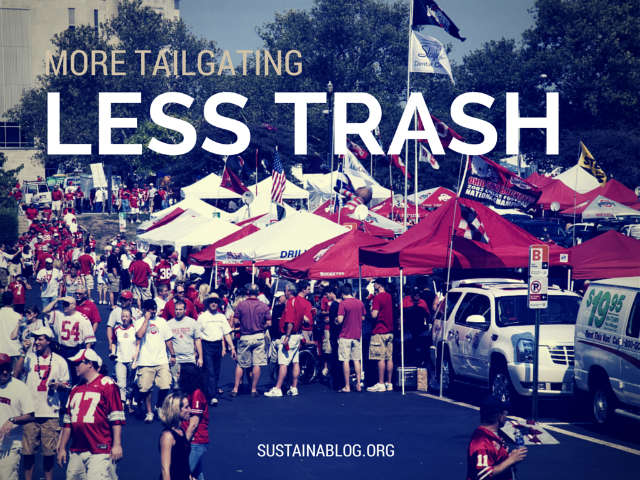 Every weekend in the Fall, college football games bring large numbers of fans to stadiums across the country. Some of those stadiums seat 100,000 or more, and are packed for every home game.
For many fans, the tailgate party before the game is just as important as the game itself. That's the time for sizzling steaks, barbecued bratwurst, and potent potables to ward off the cold. But all that carousing outside creates mountains of cans, bottles, cardboard boxes, napkins, paper plates and other trash that needs to be disposed of.
Not so long ago, all that refuse got bagged up and hauled off to the local landfill. But a nationwide Game Day Recycling Challenge, sponsored by Busch Systems, has encouraged 88 colleges and universities to divert waste generated at college sporting events from landfills through composting, recycling or re-purposing. In all, the program successfully diverted almost 1.5 million pounds of trash in 2013.
Ohio State has been recognized in 2012 and 2013 by Busch Systems for its commitment to the diversion program. According to university spokeswoman Alison Hinkle, the school is on track to become a "Zero Waste" institution by 2030.
Inside the OSU stadium, vendors are required to compost or recycle. But outside in the immense parking lots that surround the facility, 33 recycling bins are strategically located. A corps of student volunteers and paid workers circulate among the pre-game revelers, providing recycling bags and helping them determine what items are suitable for recycling. Fans who bring their recyclable items to a recycling bin are rewarded with prizes such as raffle tickets or OSU jerseys.
According to the OSU website, the university reached a 98.5 percent waste diversion rate from the 2013 game against Wisconsin, the highest landfill diversion every realized in the Game Day Recycling Challenge. That may be more important than who actually won the game!
via The Lantern
Image credit: Shutterstock