Old cars can be a veritable fire hose of pollutants. From leaking fluids to rusting metal, junk cars harm your lawn, your neighborhood, and the environment. There are more than enough reasons to get that car off your lot and into the hands of a responsible recycler. Junk that car, sell it, or even find a responsible car donation charity. Or, get creative, like these people who turned their old cars into works of art. Creative, compelling, and eco-friendly.
Two artists transform an early 1960s model MG Midget from a backyard firewood holder into a basket woven beauty. The car was "missing pieces, rusted out and generally in terrible shape" when Jeanne Wiley and Ann Conte decided to weave a new body for it out of 500 yards of seatbelt material. Read the whole story here. Image credit: www.odditycentral.com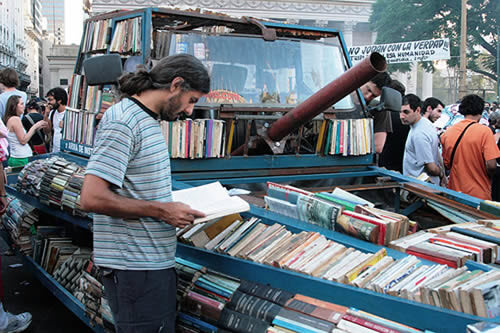 Art car is a wonderful website jam-packed with amazing examples of art cars including this beauty, The Argentinean book art tank, also known as The Weapon of Mass Instruction. Raul Lemesoff converted a 1979 green Ford Falcon that once belonged to the Argentinean armed forces during its dictatorship into a moving library in which he travels cross-country handing out free literature for people in the cities of Argentina and in remote areas where schools and books are scant.
The Houston Art Car Parade is an annual event in Houston, Texas, featuring a display of all types of rolling art including this enterprising fellow who recycled two cars into one hilarious vehicle. Image credit: www.raywj.com
How about the Cadillac Ranch. It's basically a large field with cars stuck hood first into the ground. Why? Why not, that's why.
A similar sculpture is Carhenge, a car based replica of Stonehenge. Thirty eight cars were used in the assembling of this unique art form built by Reinder family in June of 1987.  Image credit: www.worldslargestthings.com
The Spindle sculpture was created in 1989 by artist Dustin Shuler. A fifty foot spike with eight cars impaled on it, it was an attraction for the Cermak Plaza shopping center in Berwyn, Illinois. Image credit: www.berwynsrestaurants.com
Or, check out this gallery of sculptures made from used car parts. Like this longhorn sculpture called "Marathon" by Betty Hamblen Turner.
Editor's note: Know of other artistic examples of repurposing an old car? Share them with us…
Steven Weldler is a writer for the Kars4Kids car donation program.