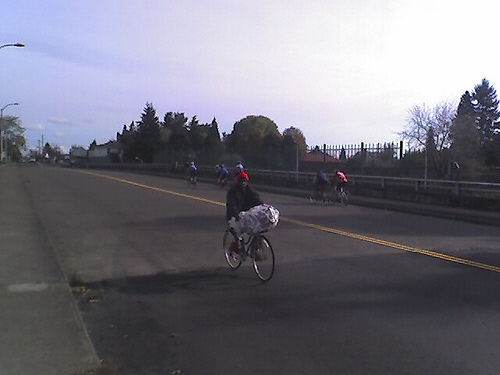 Make no mistake about it – the Pacific Northwest of the US has long been a frontrunner in the green movement. Then again, this isn't a huge surprise. The area features majestic mountain ranges, lush forests and continually evolving eco-friendly towns and cities. Many residents make sustainability a priority, and the following demonstrates five ways the Pacific Northwest keeps pushing green forward.
Portland, OR
The Rose City is often featured atop lists of America's greenest cities. Such was the case in 2008, when Popular Science magazine put Portland at No. 1.
But what makes the city of over 583,000 people so sustainable? Well, one major piece of the Portland puzzle is its urban growth boundary, which has helped create 10,000 acres of parkland within the city limits. Additionally, half-size city blocks and the fact that Portland is relatively flat compared to its neighbor to the north, Seattle, make it an easy place to walk. And if Portlanders aren't getting around on foot, they're likely biking (Portland has 324 miles of bikeways) or using public transportation.
If all of that doesn't impress you, maybe this will: Portland created a Green Investment Fund – the first city in the US to do so. This is a five-year, $2.5 million investment given to commercial, industrial and residential green projects. Lastly, the city also has 35 buildings certified by the U.S. Green Building Council, the most LEED-certified buildings per capita in America.
Farm-to-table food services
Farmers' markets are popular throughout the Pacific Northwest. In Seattle, Pike Place Market is a tourist magnet as well as a terrific farm-to-table example. Now organic produce delivery services are bringing the farm directly to Pacific Northwest locals and cutting out trips to the supermarket, helping to reduce their carbon footprint.
University of Washington
Recently named as the "Coolest School" in America by environmental organization the Sierra Club, the University of Washington in Seattle (and smaller campuses in Bothell and Tacoma) puts a focus on sustainability. The campus is mainly hydropowered, featuring three farms, a student-run Campus Sustainability Fund, and several new buildings that have earned LEED Gold ratings.
Squirrel lady
Admittedly, whether Melany Vorass of Seattle is pushing green forward or back to the pioneer days is up for debate. The urban foraging teacher traps eastern gray squirrels in her front yard, drowns them and cooks squirrel risotto. "I know how out there it sounds," she told The Seattle Times, "But the alternative is to close your eyes and eat what comes on a Styrofoam tray."
Competing for the future
Both Portland and Seattle are the locations for the largest sustainable "living buildings" ever proposed in North America. The City of Portland is helping to fund the $64 million, seven-story Oregon Sustainability Center while the Bullitt Foundation is funding Seattle's six-story Cascadia Center for Sustainable Design and Construction. Both have the goal of a triple net-zero goal in energy consumption, water consumption and waste output. Both buildings will use non-toxic and renewable building materials.
This post was written by Bryden McGrath, a freelance journalist and photographer, intern, and recent college graduate from Seattle.
Image credits: dieselboii at flickr under a Creative Commons license; Bryden McGrath