There is something about a vinyl record that presents a classic and timeless feel. Perhaps it is the nostalgia associated with it or even the crispness of the sound when it's played. Whatever the case, the record will forever be a symbol of the golden ages of music.
But times have changes now, and the convenience of modern formats has trumped this feel – not to mention that not every record you might have lying around is a classic. Everyone has found themselves with more than one embarrassing addition in their collection that they will never listen to and just allow it to sit around, collecting dust.
Whether you want to lessen the load of your current record box or you have just decided to give in to digital music completely and get rid of all vinyl, you can do more than give them over to the local charity shop. Instead, why not try these cool upcyling ideas.
You can never have enough decorative boxes to help keep things organized around the house. In the past I have used plastic bins, but I love this idea. You take five covers and use a thick string to bind them. A standard hole punch will allow you to thread it through, and you can go around every side to make an attractive border. I would suggest using tape on the inside to help keep it steady while you put it together.
This awesome idea from TLC Family shows how you can use your oven to mold the vinyl into useable (and very trendy) serving bowls. The trick is to be speedy in your reshaping, as they very quickly cool and harden. Make sure to hand-wash them, as they will melt in the dishwasher.
Etsy user EyePopArt has an entire store full of brilliant pieces made from old records. But this one is really special: a psychedelic wall clock. You could make your own using a standard clock-making kit, which can often be found in craft stores.
This necklace is made from a single strip of vinyl that has been remolded into an interesting wavy design and then attached to what looks like a bamboo chain.
Do you like vintage fashion? Give it a new twist with this awesome hangbag design. The included original label is a nice touch, and I think it makes it a much more special piece than others I have seen that paint over it to match the color of the fabric used.
This is a great example of the bowl idea mentioned before. Instead of using the original black look of the vinyl, they have created an interesting retro design pattern to make it really unique. You would have to take care to use the proper paint so it wouldn't fade with wash.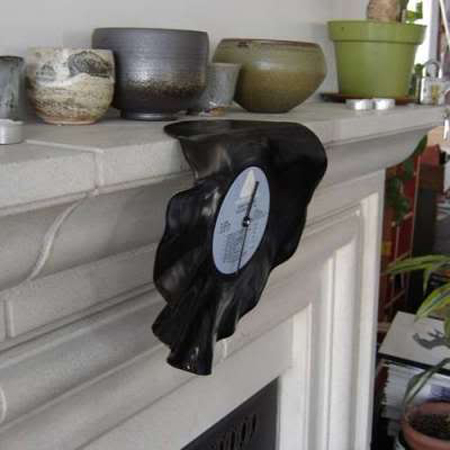 Avid Salvador Dali fans will melt when they see this homage to the surrealist style. The design itself is extremely simple, with the ridges made by heating and reshaping the record. The way it is able to hang on the mantle is brilliant.
Forget those leather-bound books of the past – this is where it is really at! The hard and protective cover of the vinyl allows you to keep your pages safe from water damage while offering a unique style all your own.
Now that you have a record book, why not give yourself a way to keep it on the shelf? With the simple heating and bending of a couple of records, you can have functional book ends for their side of your shelf. You can also use hot water instead of direct heat for the task. This will give it a smoother bend.
Random Prefect on Etsy makes these awesome-looking necklaces, cutting shapes out of records, smoothing them and putting them on chain. They are real works of art and a great example of the adaptability of vinyl.
What are some of your ideas for upcycling records? Leave them in the comments below.