Got old electronics sitting in the basement, a closet, or even a room you use? According to a new study from Staples, probably: while many of us sell them on eBay, donate or re-gift them, or even (gasp!) throw them away, most of us are hoarding those old electronics. Only 8% of us are recycling computers and televisions taking up space in our homes. Take a look at the numbers: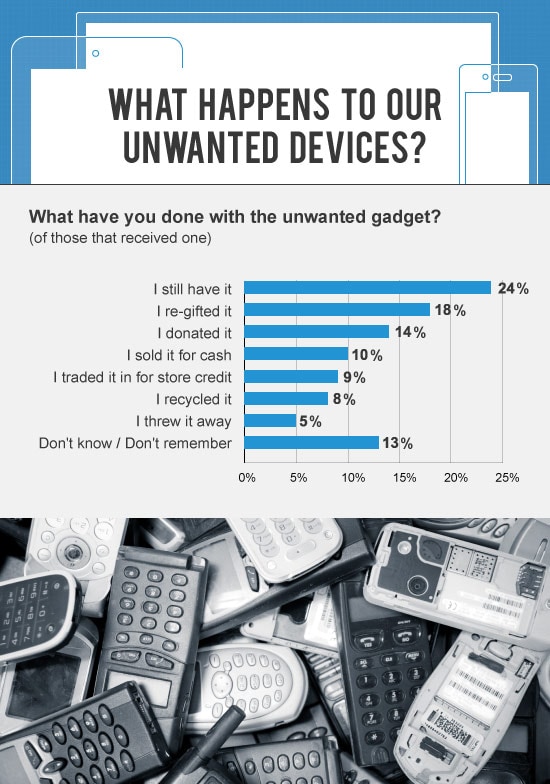 Old Gadgets, New Clutter: Americans are More Likely to Trash Electronics Than Recycle Them (via Staples).
Ironically, even while we're allowing old devices to clutter up our living space, we want more gadgets: a majority of us will be telling our loved ones that we want a new phone, a new tablet, etc. Furthermore, many of us will just assume someone on our list wants something electronic, even thought s/he really doesn't… but we'll buy it anyway.
So, Why Aren't We Recycling those Gadgets?
If you're reading this, your likely the kind of person who's aware of options for recycling electronic waste; it turns out, though, that you're in the minority. The Staples study shows that many people still don't know that they can recycle those televisions and phones. Others claim that opportunities to recycle e-waste aren't available in their area.
I'm guessing that, in many cases, people just aren't getting the right information. So, here are some resources to share next time a friend or family member heads for the trash can with their old cell phone.
Online services like Earth911 and 1-800-Recycling.com provide directories for recycling services in your area – just put in your location, and choose the kind of material you want to recycle.
If you'd like to make a little money off of that old computer, avoid just selling it on Craigslist, and find a service that will purchase it to recapture valuable materials or refurbish it for further use. Staples has a service like this.
Subscribe to your neighborhood/town online community (mine uses Nextdoor), as information about e-recycling drives sponsored by community organizations will often get announced there. That's how I got rid of an old computer collecting dust in the basement (yep, I'm guilty on this front, too).
Finally, if you buy new at chain retailers, or even local ones, ask about their options for recycling the gadget you're replacing – they may be able to take it off of your hands right there. That's how I've dealt with my last few cell phones.
How do you keep on top of electronic waste options (in theory, anyway)? If you're among the few that do recycle your gadgets regularly, how do you do it? And if anything else from the study grabs your attention, let us know…