Since I am newly married, the funds needed to develop a beautiful home have been slightly lacking. This is a good thing though as it has helped my wife and I to really think outside the box and develop décor from repurposed items easily available to us. In doing this, my wife has developed a love for recreating something new from something old. This list spotlights four of the ways we have created beautiful décor while recycling and doing our part to make sure less items go to the dump. All of these projects require a small time investment and limited money, but really this post is to push others to see the beauty in things that are being thrown away all around us.
Wine Barrels
The wine barrel is one of the most re-used wooden items already: wine makers often use barrels over and over again depending on the wine they are creating. However, when one does get thrown away it is great item to snatch up. Currently, we are using two halves of one wine barrel in our small backyard patio to grow herbs in a way that is unique and beautiful. Each half can hold 3 different plants and being able to grow your own herbs instead of buying them is a huge plus for the organic gardener in all of us. We also plan to take another two halves of a wine barrel and use them to prop up a center table in our small living room. The possibilities are endless.
Wooden Crates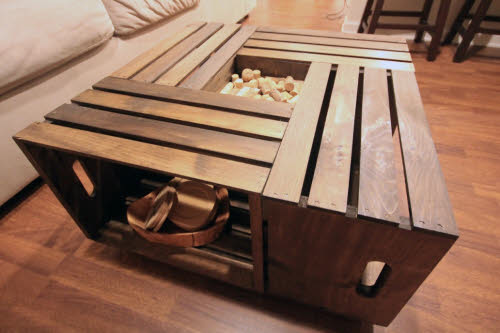 Either repurposed from anywhere you can find them, or picked up at a Goodwill or yard sale, crates have a ton of great uses for vintage décor. You can put four crates together to form a beautiful center table with this guide, or do what we are currently doing by taking a crate and screwing it to the wall to be used as a cool vintage nightstand. I have also seen crates as patio décor and being used in the garage to store tools. These are a few ideas, but just a simple Google search will give you enough projects to actively seek out crates that are being given away.
Update: If you like this table, check out the other DIY project we found featuring wooden crates.
Wooden Pallets
This was a new one we simply stumbled upon but when a friend bought some palm trees, the palette that encased the palm tree base was perfect for creating unique signs. The pallet broke down into four pieces and I have already used two of them to create signs around the house and have given one away to a friend for their house. With a vintage piece of wood like this, some stain, and a couple of stencils,you can create a beautiful piece that works perfectly with any home. Use your favorite quote, Bible verse, or family saying, and you instantly have a unique piece or art.
Old Wood
While the three ideas above were for specific types of wood, the possibilities for old and worn pieces of wood are endless. Every time I see someone taking out an old weathered fence, I know that I must ask them for that wood. You can use it for art on the walls, build tables with it, make a raised plant garden, etc. My current personal favorite is the little adventure board (above) I created with five pieces of wood and some cheap clothes hangers. It was a really easy project, but everyone that comes over talks about how fun it is to see our catalog of adventures. A pretty unique creation from some left over fencing wood from the neighbor, there is a guide on how to make it here.
So there you have it, my quick and dirty collection of four beautiful ways to repurpose old wood. Hopefully this post inspired you to think outside the box with your home décor as well. If you have another idea that I forgot, make sure to leave it in the comments.
Josh is a self-described DIYer who blogs for the home improvement retailer PlumberSurplus.com.
Image credits: Josh McNair