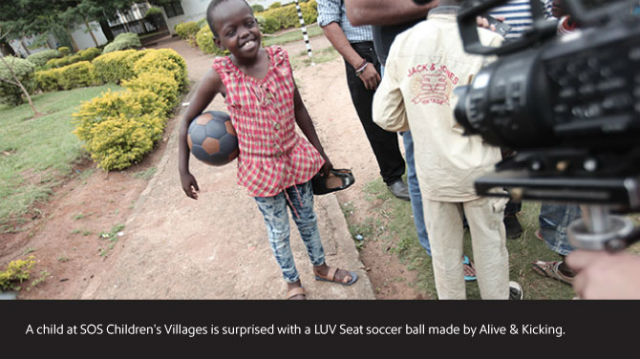 What would you do with 43 acres of used leather? Hard to imagine, isn't it… the temptation, of course, would be to get rid of it as quickly and easily as possible. But most used leather has a lot of life left in it, so with a little imagination and elbow grease, all of that "waste" could be put to good use.
That's the basic premise underlying Southwest Airlines' Project LUV Seat. After a major redesign of its plane cabins, and a choice to use a different (and greener) material for seat coverings, the airline found itself with (you guessed it) 43 acres of used leather. Southwest decided to invest that imagination and elbow grease into figuring out how to upcycle all of that material; in the process, they discovered out that by turning those seat coverings into shoes and soccer balls, they could also help people in the developing world build economic opportunities. So, they didn't just keep that used leather out of the landfill; they also made sure that they did in such a way that served others.
Project LUV Seat has just completed its second phase, and that means that products created by several social enterprises in Kenya and the US from all of that used leather is ready to hit the market. Among the new uses for that old leather:
Shoes made by Nairobi's Maasai Treads will be donated to other organizations to support needs ranging from AIDS orphans to flea control;
Soccer balls used in support of Alive & Kicking's efforts to raise awareness of HIV/AIDS and malaria prevention; and
Backpacks and tote bags made by US-based LooptWorks to support job training for adults with disabilities.
The airline donated most of these products to young people in Kenya.
No doubt airlines have a long ways to go to green themselves – it still take an awful lot of fuel to get all of that tonnage into the air – but this is a really innovative approach to dealing with one element of Southwest's environmental impact. Hopefully, this inspire other companies that create lots of waste to get creative with it!
Know of similar corporate upcycling efforts? Tell us about them…
Image credit: Southwest Airlines