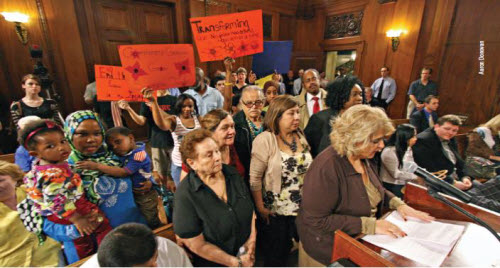 Part 11 of the Harvesting Justice blog series.
"The only way we're going to… change the most basic attitude of policy-makers… is for you and me to become the policy-makers, taking charge of every aspect of our food system – from farm to fork," said Jim Hightower, the former agriculture commissioner of Texas.[i]
The need for us to become the policy-makers to create a just and sustainable food supply chain is urgent, because in the hands of the US government it has become increasingly unjust and unsustainable. Over the past 50 years, agricultural policies that once supported small- and mid-sized farmers have been whittled away. As a result, more than 100 family farms go out of business every week.[ii] The government has instead turned food production over to agribusiness and allowed large firms to buy up small producers and traders. Currently, in the pork, poultry, beef, and grain markets, the biggest four firms control more than half the market share. Three companies control 90% of the massive global grain trade.
Agribusiness subsidies: lining whose pockets?
People everywhere are stepping up to the plate to force food and agriculture policies to serve us, not multinational corporations. Before looking at some advances and victories, let's explore ways in which government support has shifted from farmers to some of the world's biggest corporations.
The government used to set price floors for certain commodity crops, nonperishable staples like corn, wheat, rice, and cotton. The price floors acted as a minimum wage for farmers, regulating the lowest amount they could be paid for their products. Another government program, maintaining grain reserves, allowed farmers to store some grain crops in seasons when they overproduced. This meant that the reserves could be released into the market in less abundant future seasons. The regulation of extra grain helped prevent food shortages and price spikes.
But agribusinesses wanted to buy commodity crops, from which they make processed food products, as cheaply as possible. So they pressured legislators to end price-regulating policies. And legislators responded. Beginning in the 1970s, price floors and grain reserves were gradually eroded; by 1996, they were eliminated completely. Farmers had to lower their prices in response, to attract more customers, and boost production to compensate for lost income.
To respond to the downward spiral of prices and keep farmers from going under, the government ramped up the subsidy system. Subsidies, which began in the 1930s during the Great Depression, use taxpayer money to give commodity farmers direct payments, tax breaks, subsidized insurance, and other financial support. These government payments make it possible for farms to continue selling their products cheaply without going out of business.
However, the real winners in the subsidy system are the corporations who are able to buy commodity crops from farmers for artificially low prices, yielding them even higher profits. Taxpayers foot the bill, underwriting billions in annual profits for agricultural corporations.
The mix of subsidies, together with the elimination of policies that protect farmers, has created such a skewed equation that some commodity crops are sold for even less money than it costs to grow them. This practice, called "dumping," enables corporations to undercut farmers around the world. Between 2000 and 2003, for example, while the cost of producing rice was approximately $415 per ton, government subsidies allowed agribusiness companies to sell it overseas for just $275 per ton.
The whole system is kept in place by close-knit relationships between corporations and government. Corporations tempt legislators with campaign contributions, votes, and investment in their districts. In return, members of Congress give out subsidies to agribusiness and pass legislation that opens markets in their favor. A revolving door spins government officials into corporate positions and then back again.
The answer is not to throw out government subsidies. Eliminating this support system, without changing the underlying conditions that make commodity farms dependent on it, will not benefit farmers. And some subsidies, like grants for sustainable agriculture and tax credits for renewable energy conversions, can benefit small farmers.
Seeds of Policy Change
The alliances between the US government and big business have become what they are through a series of policy choices and back-room dealings. Other policy choices and more transparent politics could yield different outcomes for small farmers in the US and around the world. Subsidies need to be restructured and new policies need to be implemented to promote a just and sustainable food system. The changes will not come easily, because of the power and profits that flow to an elite few through the current relationships. But organized movements of people can and have beat out big power, when armed with unity, good strategy, hard work, and numbers.
A variety of necessary changes are already underway, and many sectors are beginning to engage to force more. Stay tuned for our next Harvesting Justice blog to read about some victories and advances. In the meantime, here are some resources that can help you learn more and take action on the issues:
Learn about the history of US agricultural policies. Get started at the Institute for Agricultural and Trade Policy's webpage (www.iatp.org).
Work to change national agricultural policy. Check out Food and Water Watch (www.foodandwaterwatch.org) and the National Family Farm Coalition (www.nffc.net), and their campaigns to make the US Farm Bill and international trade agreements more fair and just.
Learn about initiatives and campaigns that are challenging structural racism in land distribution and agricultural policies. The Rural Coalition's report, "A Seat at the Table" (available on their website, www.ruralco.org), is a good resource. And check out Setting an Anti-Racist Table's list of resources on racial justice in the food system: http://anti-racist-table.weebly.com/racial-justice-in-the-food-system.html.
Lobby your state to make laws friendlier to family farms. Check out the Georgia Organics Action and Advocacy website to see an example of effective advocacy (www.georgiaorganics.org/takeaction.aspx).
Check out the following for more ways to learn and engage.
Many thanks to Kathy Ozer and the National Family Farm Coalition for their generous help with information and analysis.
[i] "Jim Hightower" in "One Thing To Do about Food: A Forum," Alice Waters, ed., The Nation, September 11, 2006, 21.
[ii] Farm Aid, based on census data, reported 330 farms a week going out of business in 2007; more recent census data has also shown numbers in the hundreds.
Download the Harvesting Justice pdf here, and find action items, resources, and a popular education curriculum on the Harvesting Justice website.
Read more from Other Worlds here, and follow us on Facebook and Twitter!
Copyleft Other Worlds. You may reprint this article in whole or in part. Please credit any text or original research you use to Tory Field and Beverly Bell, Other Worlds.