Today's post is from Rob Jones, marketer, social media coordinator, and chief blogger for BuildDirect's green building blog, Green Building News and Views. Rob talks about his colleague at online building materials company BuildDirect, company Co-Founder Robert Banks, who regularly travels the world in search of innovative building products. And in the building materials industry, the changing trends in the marketplace are driven by consumers are no longer thinking about sustainable building products as nice-to-haves, but as 'must-haves'. Here's the story…
***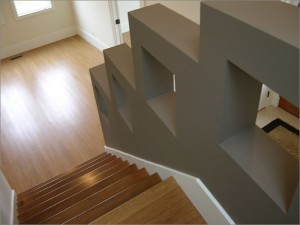 Buyers of building materials are more savvy than ever before, particularly around the area of sustainability. They want to deal with companies and their partners who have good ethics surrounding waste, managed harvesting, and reduced environmental impact.
This is having a significant effect on all kinds of industries that rely on the building materials supply chain, from DIY retailers, to architecture and design professionals, to large scale construction. It is an encouraging trend.
But even with ethical purchases around sustainability in place, consumers still want materials that will last, and that are attractive.
Now, it is understood that there is a spectrum of criteria for judging green building materials. Much of the definition of green building materials is contextual. But, when looking at bamboo flooring, a lot of the common check boxes for sustainable products easily receive an 'X'. Bamboo is long-lasting, and fast-growing. Bamboo serves a multitude of industries and markets, while preserving the health of individual plants (it keeps growing after harvesting), well beyond the flooring industry.
A few years ago, my colleague Robert Banks, Co-Founder of the company I work for, BuildDirect, undertook one of his trips to China where much of our bamboo flooring is sourced. Demand for bamboo flooring was growing. It became necessary to meet that demand by doing a little digging, to see what was upcoming and applicable for the North American Market.
While in China, Rob discovered a new product that seemed to bring the 'greeness' of bamboo to another level: Strand-woven bamboo. And at the time, it hadn't been introduced to North America.
What makes strand-woven bamboo greener than current materials?
Now, for those who aren't familiar with strand-woven bamboo, it's a product of post-industrial waste, coming out of the process that creates conventional bamboo floors. In that process, the parings of bamboo left on the factory floor were historically considered to be waste. But, around the time of Rob's visit, an idea to use this 'waste' to create yet another form of bamboo floors was implemented.
The parings were collected, boiled, literally woven together, and then highly pressurized to make a new type of bamboo floor board. The effect is something that suggests a wood floor, rather than the knuckle patterning you find in standard bamboo floors. Take a look at the comparison: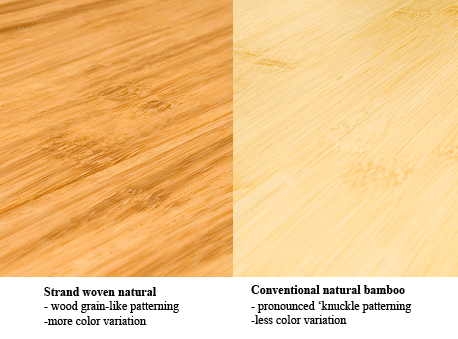 It was a significant advancement in green building materials. The thrill for Rob, and later for us as a company, was the ability to deliver on the things that our customers were looking for, particularly the sustainability aspects. Here's what Rob said about it:
The leftover bamboo parings had been created and milled into a product, but no one had exported it yet. After reviewing samples we decided the characteristics were perfect for the American market place. It was a green product made from the waste of another green product, pressed to become very durable with a commercial warranty. And the product was attractive to look at.
Still more, it served as a way of illustrating this idea of green building materials on a spectrum, checking off even more boxes that make it closer to an ideal sustainable product.
The discussion about how to judge building materials as being green is a fascinating one. As technology evolves, the products will too. With sustainability being a very clear mandate for manufacturers, driven by the increasing consumer demand, perhaps this question will be more easily answered in a less ambiguous way, too. And even further down the line, perhaps it will be a given.
***
BuildDirect provides more information about bamboo flooring on the company bamboo flooring learning center. Rob Jones and BuildDirect can be followed on Twitter at @BuildDirect.