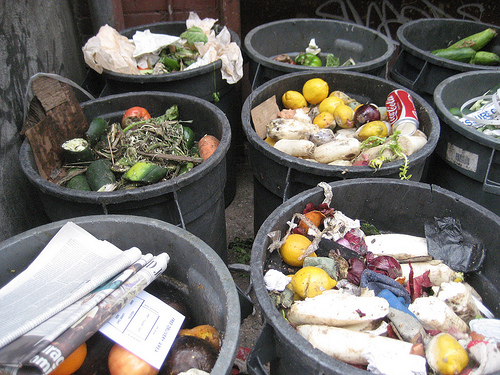 Last year at my twice monthly morning mother's group, we were treated to garbage bags full of day old bagels, breads, cookies, and other baked goods courtesy of a local Panera Bread. How did we get them? All we had to do was ask. There was so much that  I would bring reusable bags and take home bagels, loaves of Italian, ciabatta, and focaccia bread, and often a few cookies. Many of the woman did the same. If our group hadn't taken them, chances are they would have been thrown in the trash.
Before you get all self-righteous about the waste of food by restaurants, think back to the last time you cleaned out your refrigerator. What did you throw out? How about the last time you ate in a restaurant? What did you leave on your plate?
Last week at World Water Week in Stockholm, Sweden, some shocking food waste statistics were presented. What place does food waste talk have at a water conference? It takes a lot of water to produce the food that is ultimately wasted.
In the US, it is estimated that as much as 30% of food gets wasted. That's about $48.2 billion of food. That's shocking at first thought. But when I think about what has been thrown out from my fridge over the years, what I've seen at the restaurants I've worked at in the past, what gets tossed in school and work cafeterias, and all the other places that contribute to the food waste problem, I can believe it.
The people in Stockholm called on governments to reduce the amount of food that is wasted by half by the year 2525. That's a long way away but we're talking about governments here and we all know how long it takes them to achieve things.
So I call on everyone reading this blog to reduce the amount of food that they personally waste by half in the next week.
Plan out meals weekly – Perishables picked up without a meal plan can go bad before you have a chance to use them. If you plan meals out between shopping trips, you'll buy only the perishables you need.
Don't prepare too much food – Scale down recipes to ensure you only make what you need.
Reuse leftovers – A lot of what gets thrown out from the frig is leftovers. If you're not going to reuse it within a couple of days, freeze it.
Become a diner – I've been known to utter the phrase "This isn't mom's diner. I make one meal and you get what you get," quite a few times in the past. I've learned to modify that. I'll be a diner if someone is willing to eat leftovers. If I'm making salmon, my six-year-old's world seems as if it's ending. I've learned this is a perfect time to use leftovers. I offer him some leftover chicken or pasta in place of the salmon.
Share – After a big party send home leftovers with guests or offer food to neighbours the day after. Put together a plate with leftovers after dinner for a single or elderly neighbour. Donate those canned goods you bought for a casserole but never made to a food pantry before their expiration date arrives. There are tons of ways you can share instead of waste food.
Know what you've got – Put food in clear containers in the frig so you can see what you've got.
Doggie bag it – If you eat out, take your own containers for a doggie bag and bring home your leftovers. Then actually eat them.
Grow you own – I can guarantee you that not one tomato, pepper or herb from my garden has gone to waste this summer. It's a lot of hard work to grow them, and I'm not about to throw that hard work in the trash.
Be truthful with yourself – You may have the best intentions in the world to cook a healthy dinner every night, but don't buy a week's worth of food if in reality you know you're going to end up picking up take out or eating out a couple of times each week. Shop for who you really are, not for who you want to be.
In addition to seriously cutting back the amount of food you waste, you'll end up saving quite a bit of money, too. That should be an added incentive these days.
How do you curb the amount of food that you waste? If you've got any tips, please share them.
Image credit: petrr at Flickr under a Creative Commons license
Read More about Food Waste:
Food Auditing: How to Reduce the Waste
As Food Costs Rise, Consumers Look at Food Waste