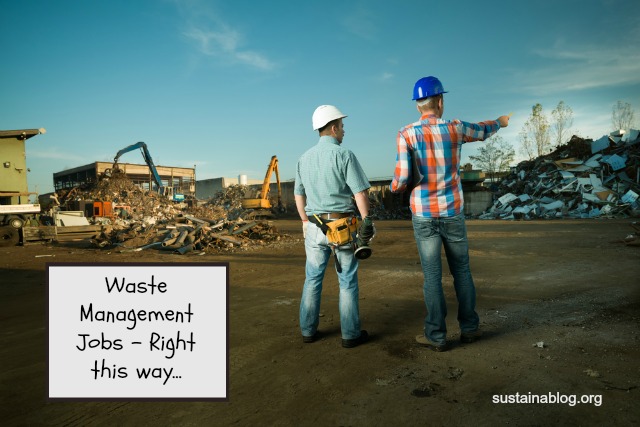 Between a dearth of jobs one week, and a technical snafu the next, we've been offline a little longer then we'd like. But we're back, and so are waste management jobs over at sister site Green Jobs Post. Take a look at the couple we've featured below; if you like what you see, head over to GJP for application information, or to see what other great companies are hiring.
Don't want to come back here each week to see if we've got new jobs featured? No problem: just sign up for our waste management jobs notification list, and you'll get an email whenever we put up a new post.
Now, this week's jobs…
Company: Republic Services
The Environmental Manager is responsible for the preparation of the Landfill budget, managing all spending for the Engineering department, and overseeing consultants and contractors during site development. The Environmental Manager is also responsible for permitting and ensuring the Landfill remains in compliance with all applicable regulations during operation.
Skills/Abilities/Background:
Preferred Qualifications:  Certified Professional Engineer and/or Certified Professional Geologist designation.
Minimum Qualifications: Bachelor's degree in Engineering, Geology, Biology or related science.
Other Knowledge, Skills & Abilities:
Thorough knowledge of environmental regulations relating to air, water, solid waste, and material recovery/recycling.
Strong written and oral communication skills.
Effective interpersonal communication across various levels of the organization and with external customers, vendors and government agency representatives.
Strong project management skills.
Strong analytical skills and a focus on adding value to the Company.
Ability to effectively manage multiple projects and meet deadlines.
Ability to read, analyze, and interpret business documents, professional journals, technical procedures, and governmental regulations.
Company: Aramark
The Environmental Coordinator will assist the Environmental Programs Manager (RISK MANAGER) in the management of all aspects of its Environmental Management System (EMS), adhering to the ISO 14001:2004 Standard and assisting in the re-certification process. Position is seasonal.
Skills/Abilities/Background:
Ability to organize and prioritize tasks as assigned to reach a common goal.
Ability to work with employees and managers to encourage, enhance, and facilitate recycling and greening efforts.
Must be able to analyze, evaluate and make program recommendations for continuous improvement of environmentally related issues and programs.
Be experienced in computer research and using telephone for contacts.
Must have working knowledge of company environmental programs and greening initiatives.
Photo credit: Shutterstock