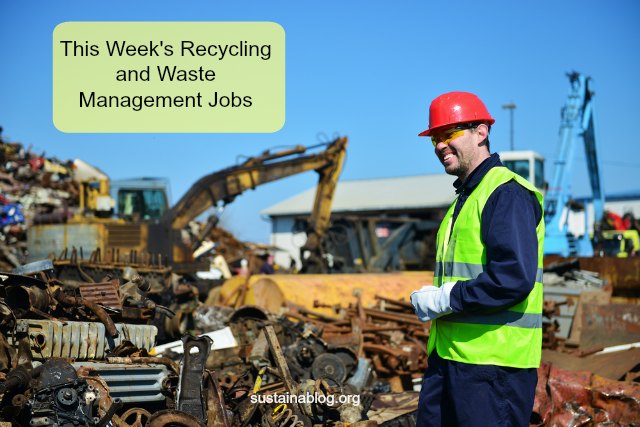 The new year is underway, and that means the job listings over at Green Job Post are starting to roll in. Ready to get 2016 off to a really good start with a new position in the waste industry? We've got a run down of some of the most recent waste management jobs over at our sister site.
We do this almost every week, so if you like the convenience of email, just subscribe to our notifications to get these listings in your inbox.
Company: Waste Connections
As a member of our elite Waste Connections Operations team, you will be signing up for a company that is committed to our employee's long term career development and success. If you are open to relocation and willing to lean new tasks and challenges, Waste Connections wants you to be part of our Operations team. Do you like working hard and playing harder? If the answer is YES, then you're who we're looking for!
Skills/Abilities/Background:
Ability to relocate for promotional opportunities based on performance
Bachelor's degree strongly preferred • 3+ years of managing in a dynamic, people driven environment
Have or ability to obtain within 90 days your Class B CDL
Excellent written and interpersonal communication skills
Ability to meet tight deadlines and juggle multiple priorities
Intermediate to advanced skills in MS Excel and related business systems.
Company: Orange County Solid Waste Management
Orange County Solid Waste Management is seeking qualified applicants to oversee and manage all aspects of a county-wide public recycling operations including services to residential and non-residential sectors of Chapel Hill, Carrboro, and Hillsborough.
Skills/Abilities/Background:
Knowledge of modern office practices and procedures, including modern office technology.
Knowledge of local, state and federal regulations/ordinances pertaining to recycling operations. Knowledge of applicable safety rules and regulations.
Knowledge of County and department policies and procedures.
Knowledge of regional recycling and commodity materials markets.
Knowledge of various recycling industry equipment such as collection and materials transport vehicles, bailers, compactors, industrial wood waste grinders, bulk containers, magnetic sorters, skid-steer and other type loaders, etc.; ability to write equipment and vehicle specifications.
Skill in planning and organizing work and in data management/analysis.
Skill in supervision.
Skill in managing intergovernmental services.
Skill in budgeting and monitoring of expenditures.
Skill in oral and written communication.
Ability to manage time among competing priorities.
Ability to provide high level of customer service.
Photo credit: Shutterstock