The entire fashion world is abuzz as we wait for the start of Mercedes Benz Fashion Week, one of the most prominent events in the industry, to begin in a few days. While it's always exciting to see the latest designs and trends be revealed on the runway, every girl knows a look won't complete without the perfect shoes. And from this idea, Shoe Week was born. It's a week of shoe presentations, shoe pairings and more happening simultaneously as Fashion Week, September 5-12th
Although there's no festivities on this year's schedule for eco-chic fashionistas like ourselves (we'll keep our fingers crossed for next year), we can still join in on the "shoetastic" celebrations but skip on contributing any waste to landfills. The Environmental Protection Agency (EPA) estimates that New Yorkers throw away 200,000 tons of clothes, shoes and other apparel each year. Oftentimes, the items are salvageable and can be donated, recycled or upcycled into the perfect accompaniments to an array of looks. Read more to find out how you can give the shoes in your closet a high fashion makeover for little to no money.
Five Ways You Can Make a Statement with Your Shoes
Create A Custom Design: Whether you prefer markers, stencils or stamps, you can create a unique design on your sneakers with a little planning and a few tips. I first recommend sketching out your design on paper to be sure it's the one you like; once you start drawing on your shoes there's no turning back. It's best to use clean, solid colored canvas shoes. Then you want to take out the laces to avoid painting them, stuff your shoes with wadded up paper to create a firmer work surface and tape off the bottom trim to keep it looking crisp and clean. You'll soon be on your way to adding some pizazz to your plain 'ole sneakers.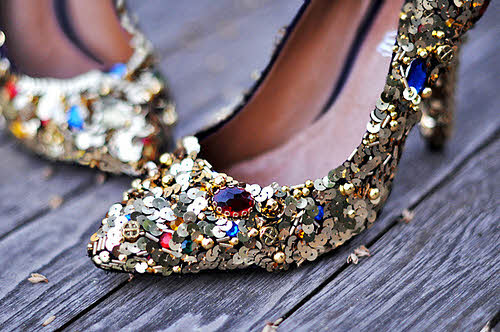 Embellishments! : You are sure to transform your drab heels to fab by attaching sequins, rhinestones or jewels to them. Over on Love Maegan, there's a step-by-step tutorial to help you make the lavish pumps pictured here for a fraction of the cost of the original ones. No one said glamour had to be expensive!
Swap Your Accessories:  Shoe clips are simple yet versatile accessories that can quickly add some spunk to your favorite shoes. You can upcycle scarps of fabric, buttons and/or feathers to make the perfect decorations to reflect your style. The clips also can be used to dress up a scarf or necklace, and you'll be ready for the office or dinner with friends in no time.
Paint Your Shoes: Don't waste your money buying expensive paints or risk your health inhaling those filled with toxins. Instead, you can add a pop of color to your shoes using homemade alcohol ink or chemical-free nail polishes. If you don't have time to wait in between applying coats, you can use a hair dryer to speed up the process. Remember a little color goes a long way in enhancing your look.
Decoupage on Your Favorite Designs: With some leftover fabric, glue, scissors and a brush, you can decoupage, or stick, the most stylish designs onto a pair of shoes and make them your own. Don't forget to trim away the excess fabric and let them completely dry before wearing. For more information about this technique, check out this tutorial to decoupage your shoes.
What are some of your ideas for dressing up an old pair of shoes? Have you tried any of the ideas listed here? If so, leave me note and let me know how they turned out for you.