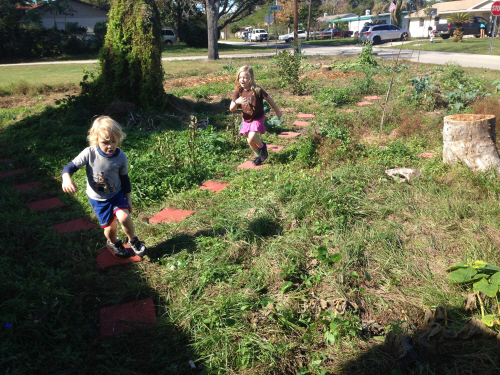 Originally, I'd planned just to update the post I wrote on Wednesday when I got the decision of the Longwood, Florida city council about Sean Law's accrued fines levied over his budding permaculture food forest. But there's plenty to share – enough to warrant a separate post. First, the decision: as expected, the city council upheld the fines against Sean – here's the report by Orlando's WESH on the decision:
As one commenter at WESH's web site noted, this report doesn't exactly show Sean's yard from the most flattering light. No, that's not their job, but the images they chose do seem to support the notion that he's just letting his yard grow wild (though, in fairness, they do allow him to explain the long-term plan for his yard). Sean has posted a video on his Facebook page explaining the organization of his "foodscaping" project – it's definitely worth a few minutes to understand the choices he's made, and the permacultural principles underlying them:
Sure, this video (and the photo I chose to post at the top) show Sean's food forest in a more flattering light… but, ultimately, beauty is in the eye of the beholder. And that's what's at stake here in terms of the city's position: one aesthetic vision over another. No matter what people claim about property values, the fact remains that the city of Longwood has chosen to endorse a particular aesthetic. Sure, those rules were in place when Sean bought his house (as many have pointed out), but is it the place of a government, at any level, to make aesthetic choices for its constituents? And I don't necessarily buy arguments about rats and fire ants: while heavy mulching can provide nesting space for ants, so can patio slabs… and as someone who spent his early years in Florida, I know these invasive creatures are all over the place. Rats could be an issue with the taller plants, but, of course, any covered spot could provide nesting space for them: wood or lumber piles, outdoor appliances & furniture, and holes under buildings can also serve this purpose.
Sean has made choices about his yard/landscaping that tread lighter on the Earth… and, in the process, demonstrated the costs created by "traditional" lawns and garden spaces. As long as he's not infringing on the rights of his neighbors, I have a hard time understanding the city's position. Yes, he probably should have discussed these choices with his neighbors ahead of time – he might have even created some converts – but that's not an error that deserves over $130K in fines or loss of his house.
Of course, I'm interested in your thoughts – please share them with us in the comments.
Top image courtesy of TheAdamMorrison at reddit