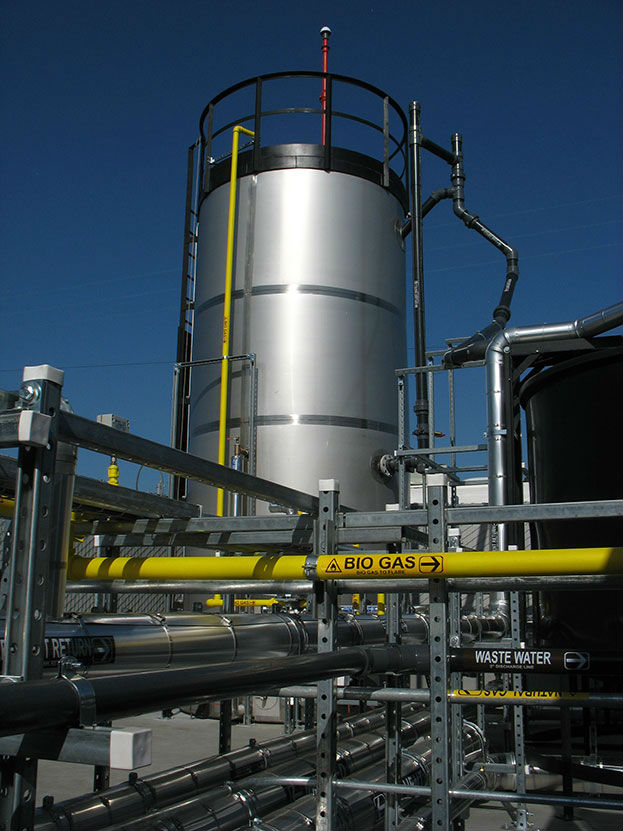 Turning brewery waste into energy isn't a new idea: all of that spent grain has captured the imagination of waste entrepreneurs before. A partnership between Utah-based Pure Energy Group (PEG) and Devil's Canyon Brewery in San Carlos, California, is a first, though, in the sense that the waste-to-energy plant installed at the brewery "first project of its kind to be permitted and operational in an urban setting." The system even won an award from San Mateo County for diversion of waste from landfills.
According to PEG CEO Brandon Julian, brewery waste works very well in an anaerobic digester; the company specifically used an induced bed reactor in the installation at Devil's Canyon. Though installed last May, the system is in "its final stage of being fully optimized and commissioned." Julian tells Waste360:
The facility has one 6,500 gallon reactor with the capacity to process 2 million pounds of spent grains per year. The facility is estimated to generate [biogas] equivalent to approximately 230,000 kWh of electricity per year, that is enough to offset approximately 15 homes per year, which is also the equivalent of eliminating around 50 cars off the road or 26,000 diesel gallon equivalents (DGE).
 The biogas from the anaerobic digester will replace natural gas used by the brewery. The IBR is a co-generation system, so I'll be interested to see how they make use of the heat produced, too – all sorts of possibilities here.
Other waste biz stories that came across my desktop this week:
Sprint's Smartphone Encore Challenge will offer teams of entrepreneurs and designers the opportunity to create viable business plans for repurposing old smartphones. Brightstar Corporation, HOBI International, and Net Impact are also involved.
Waste diversion startup Rubicon Global has attracted $30 million in new investment, which it will direct towards scaling up nationally, and "new recycling technology research."
Know of other stories from the waste biz sector from this week? Share them with us…
Image credit: Pure Energy Group