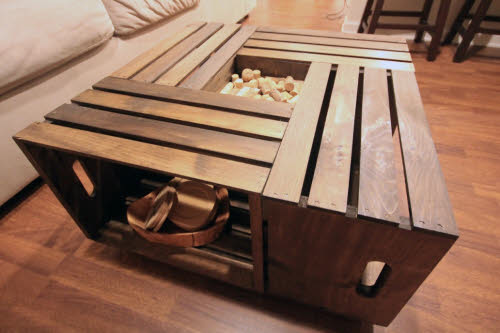 Back in mid-September, we published a post from guest contributor Josh McNair which shared home décor projects his wife and he had completed with salvaged wood. That post did quite nicely on the traffic front… and almost all of the visitors it drew arrived looking for the coffee table made from wooden crates (pictured above). After a little digging around, I discovered that wooden crates – used for shipping wine, cigars, fruit, and other products – are nearly as popular as pallets as a source of "trash" wood that can be used in DIY projects.
How popular? Well, I had to search a little more for a variety of projects – lots of options for storage containers, for instance – but once I did, I found a number of relatively simple, useful ideas for a range of wood crates.
1.  Kitchen Cabinets made from Wine Crates
The concept of an apartment without kitchen cabinets seems kind of, well, foreign – that was the state of this apartment in Paris. Resident Marianne didn't make a trip to IKEA; rather, she gathered up used wine crates (which I'd imagine are easy to find in France), and made her own. Doesn't get much more simple than that. (via Pinterest)
2. The Wooden Crate Herb Garden
This project requires just a bit more elbow grease… but not much more. Rachel included ollas in her wooden planters to reduce the amount of watering she'd have to do herself.
3. The Bicycle Basket Made from an Old-School CD Holder
Wine-crate style wooden boxes were once really popular for holding collections of CDs. Now that most of us are going digital with our music collections, there are a lot of these small crates floating around, so you should have little trouble finding one to complete this bike basket project from Riding Pretty. (via Chris Baskind at Google+)
4. The Vintage-Looking Elevated Dog Feeder
You'll need to do a little cutting and drilling for this project, but you end up with this gorgeous elevated feeder for your dog (which is also much easier on his/her neck then a bowl on the floor). Much more attractive than plastic commercial models… (via apartment therapy)
5. Another Coffee Table Using a Different Style of Crate
Yep, lots of coffee table/end table plans out there for wooden crates. This one, which makes use of old soda crates, caught my eye.
6. A Home Office Desk Made from Found Materials
Instructable's pro user zieak created this desk for a home office completely from salvaged materials, including wooden crates which serve as drawers.
Got your own uses for crates? Share them with us…!