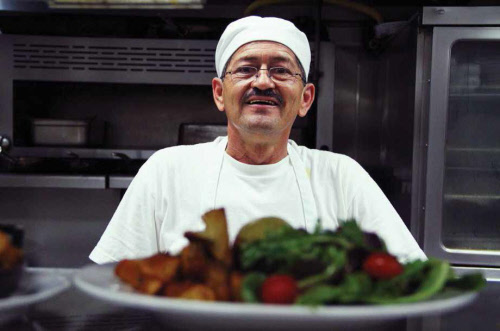 By Tory Field and Beverly Bell
Part 15 of the Harvesting Justice series
The Food Chain Workers Alliance has a goal of nothing less than full rights and fair wages for the 20 million workers who grow, harvest, process, pack, ship, cook, serve, and sell food in the US. Founded in 2009, the Alliance brings together 11 organizations representing workers throughout the food supply chain. It is organizing across sectors, building solidarity between workers in different industries. It is pushing for policy changes and educating and activating consumers so that we can all better align our food purchases with our principles. The Alliance also draws attention to the ways in which institutional racism in the US and around the world has produced a food system reliant on the exploitation of immigrants and people of color.
The Restaurant Opportunities Center (ROC) is one of the founding members of the Alliance. Started in New York City, the organization's original aim was to help find new jobs for workers who had been employed at Windows on the World, the restaurant on the 107th floor of the World Trade Center that collapsed on September 11, 2001. This mission quickly expanded to changing working conditions throughout the entire restaurant industry. In 2008, a national office, ROC United, was launched, which has since helped replicate the model in eight other places: Chicago, Los Angeles, Miami, Michigan, New Orleans, Philadelphia, Washington, D.C., and Houston.
"The restaurant industry is the largest private sector employer in the US," said Jose Oliva, ROC's national policy coordinator. "It is in the position of creating the conditions, setting the tone, setting the standard, for the entire sector, not just the service sector which has now become the core of our new economy, but for the entire private sector." If food workers could exercise their power, added Jose, they could improve not only their own working conditions but also other aspects of the food system, from environmental impacts and animal rights to food quality for consumers.
ROC has won numerous campaigns against unjust restaurants, forcing them to change their practices. Their current campaign focuses on the world's largest full-service restaurant group, Darden, which owns Capital Grille, Red Lobster, Olive Garden, Longhorn Steakhouse, and others. In 2012, ROC filed a lawsuit against the company for racial discrimination and wage theft. The organization is also leading a charge to raise the federal minimum wage for tipped workers, which has been frozen at $2.13 for more than 20 years. Over the years, ROC has led and won 13 campaigns against exploitation in high-profile restaurant companies, securing improvements in grievance procedures, raises, sexual harassment policies, sick days, job security, and anti-discrimination policies.
ROC is also making the public aware of what happens behind the scenes at restaurants. They have published in-depth reports and a new book, Behind the Kitchen Door, about working conditions, racism, and sexism in the industry.
Other compelling initiatives for food workers' rights include:
Here are some ways you can support food, farm, and restaurant workers organizing for better working conditions:
Stay in touch with the Food Chain Workers Alliance "Take Action" page at http://foodchainworkers.org/?page_id=289;
Participate in the campaigns of the Restaurant Opportunities Council (ROC) for a higher minimum wage for tipped workers and for better working conditions. See their action alerts here: http://rocunited.org/action-center;
Research how certain businesses, restaurants, and corporations treat their workers and choose your patronage accordingly. If you live in New York City, ROC has done your work for you; see their diners' guide, If You Care, Eat Here, to learn about conditions in restaurants in the city;
Join boycotts and hold solidarity protests for farm workers rights. Check out the Coalition of Immokalee Workers, the United Farm Workers, and the Farm Labor Organizing Committee to learn about their current campaigns;
Join efforts to bridge healthy and local-food movements with the farmworker rights movements. Just Harvest USA tells you how (www.justharvest.org/get-involved/); and
Get to know the workers in your life. Offer respect and generous tips at restaurants. Find out how the institutions you are a part of treat their workers, and if workers are organizing, ask how you can support their efforts.
Download the Harvesting Justice pdf here, and find action items, resources, and a popular education curriculum on the Harvesting Justice website. Harvesting Justice was created for the US Food Sovereignty Alliance, check out their work here.
Read more from Other Worlds here, and follow us on Facebook and Twitter!
Copyleft Other Worlds. You may reprint this article in whole or in part. Please credit any text or original research you use to Tory Field and Beverly Bell, Other Worlds.