We generally don't think of banana peels as wasted food because most of us don't eat them. You can, though… or you can put them to other uses. Our friends at Insteading and Eat.Drink.Better have both published the infographic below, but I thought it was well worth another post… if anything, to get people thinking even more about the potential uses for things we throw away without any thoughts. Take a look at Jo's thoughts from Insteading, and share your own with us in the comments…
Top 10 Uses for Banana Peels – Waste Not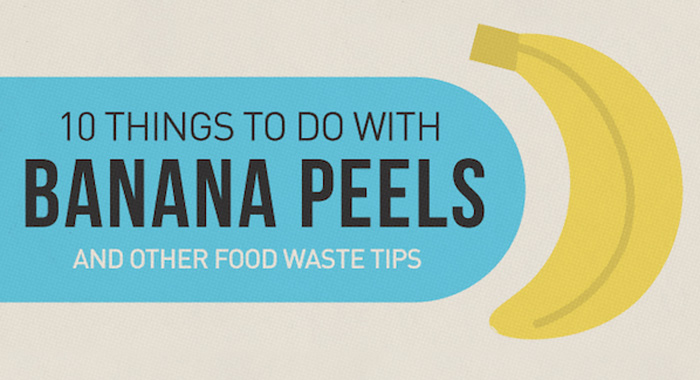 One of the most important aspects of surviving and thriving off the grid or in a survival situation is making the most of all your available resources- even (especially?) the ones that you didn't even know were resources to begin with. Take, for example, banana peels.
I'm sure, if you're here, you already know that you can use nutrient-rich banana peels to feed the worms that make composting tea and to help fertilize your gardens. I was surprised, however, to learn that you could grind it into your chicken and rabbit feeds to boost your animals' vitamins. I also didn't know that you could use banana peels to relieve itching and tenderize meat during cooking.
You can check out the full list- which was published earlier this month on our sister site, Eat Drink Better- below, and let us know if they missed any hot banana peel tips that you know about in the comments section at the bottom of the page. Enjoy!
Waste Not: Top 10 Uses for Banana Peels
---

Infographic originally published on Eat, Drink Better. Created by Sustainable America.