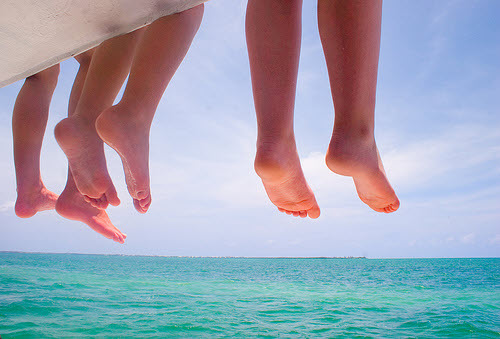 After what seemed like a never-ending Winter, Spring is finally here in the Midwest. Before I swap my snow boots for sandals, my feet are in need of some TLC. A homemade scrub is a surefire way to remove excess dry skin, repair cracked heels and more. They are easy to make, inexpensive, and will leave your feet feeling soft and refreshed. Furthermore, you can avoid putting harsh chemicals on your skin by choosing which ingredients to include in your scrubs.
Make Your Own Homemade Foot Scrub: Ingredients
I've made lots of scrubs over the years, but this is by far the easiest one. You'll need to combine:
the juice of a half of a lemon,
a cup of sea or Epsom salt and
half of a cup of coconut oil.
Depending on how much juice you are able to squeeze from your lemon, you may want to add more salt to thicken the mixture. The scrub should be a paste-like consistency. Once everything is mixed, you can store your scrub in a sealed container for multiple uses. A recycled glass jar or plastic dish with a lid will work just fine.
Scrub! Scrub! Scrub!
If you've ever experienced an allergic reaction to any of the above listed ingredients, it's best to test the scrub on a small area of your foot. Your skin is your body's largest organ, so, it's better to be safe than sorry. After a day or so have passed without a reaction, you have the go-ahead to give your well-deserving tootsies a good scrubbing. I notice the best results when using my scrubs if I soak my feet in warm water for 10- 15 minutes beforehand or apply it following a shower. Be sure to give extra attention to your feet's heels and other problem areas.
Rinse and Relax
When you're done pampering your feet, rinse away all of the salt and pat dry. Then put on your favorite pair of cozy socks or slippers to help your feet stay moisturized longer. You'll be ready for the sun in no time when treating your feet to a spa-like scrub once or twice a week.
You can't go wrong with this foot scrub as lemons are bursting with minerals and vitamins. Not to mention that the smell of citrus instantly makes me feel calmer. Sea salt is a perfect, all-natural exfoliator, and coconut oil is a superfood every girl (and guy) should add to their beauty regimen for radiant, youthful skin.
What are some of your favorite ingredients to include in your foot scrubs? I'm looking forward to trying some of your recipes!