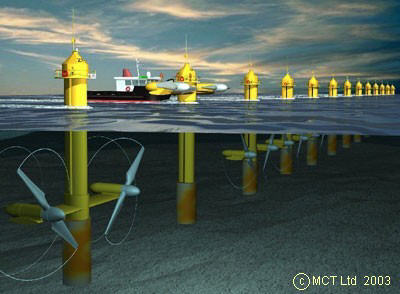 From Renewable Energy Access, news of a study by the Electric Power Research Institute that concludes that the tidal power potential off of Maine's coast "provides an excellent resource that could produce electricity at costs competitive with wind and natural gas, and less expensive than solar and so-called "clean coal." And, like wind and solar, capturing energy from the tides emits no greenhouse gases."
"Maine has a world-class tidal resource that will produce electricity at a cost of 4.2 to 6.5 cents per kilowatt-hour," said Roger Bedard, the EPRI study project leader. "This resource is better than many we studied and will produce lower cost electricity as a result." …

Supported by funding from the Maine Technology Institute, EPRI analyzed the technological and economic feasibility of the tidal resources in seven states and provinces, including Maine, Massachusetts, New Brunswick and Nova Scotia. In Maine, the study focused on Western Passage in Quoddy Bay. The study characterized eight different tidal in-stream energy conversion devices.
Perhaps someone with more knowledge can provide better insight, but harnessing tidal power seems like an awfully promising concept. What I don't know, of course, is the effect such installations might have on marine ecosystems. Since that's an argument that's made against offshore wind turbines (and is one that deserves consideration), I'd love to see what the experts think about the potential for tidal turbines and marine life to coexist peacefully.
via Hugg
Categories: renewable, energy, tidalpower, Maine