As I've heard from numerous builders in recent years, "green building" has largely just become "building": incorporating efficiency features, renewable energy systems, and natural lighting and air flow elements just make sense. But if you were to watch the building of a green home, it probably doesn't look a whole different from most new construction. That's one of the reasons I love checking out tiny houses online, or even making a trip up to Dancing Rabbit Ecovillage: these folks are often taking things that already exist, and converting them – or, if you prefer, upcycling them – into living spaces. And one of my favorite forms of this kind of reuse: the bus house.
Yep, buses make a lot of sense for living space, as they're already structurally sound shelters… just ones also designed to move. If you decided to take on such a project, you may want to maintain the bus' mobility, or you may want to remain stationary. Either way, you're a long way towards a viable living space with walls, windows, and roof already in place.
Thinking about a bus conversion? If you're not, you will be after checking out these examples of bus houses from around the world.
Upcycling a Bus into a Home: 8 Examples of the Bus House
Aubergine – a stationary bus house at Dancing Rabbit: my first live experience with a bus house took place at Dancing Rabbit. Aubergine (pictured above) was the initial creation of Rabbit Liat, who moved, stripped, and repurposed the abandoned bus. From my tour, I remember an earth berm on the north side, a greenhouse on the south, and lots and lots of sheep's wool insulation. The one downside: you wouldn't have to be particularly tall for this set-up to be uncomfortable.
The Bus House through an Architect's Eye: Hank Butita needed a final project for his Masters of Architecture program… fast. So, he bought a bus. He and his grandfather had discussed the idea of building a cabin out of a bus for a piece of land the elder Butita owned, and Hank decided to make that kind of project his thesis. With a director who was willing to go along, Hank designed and outfitted the bus in a semester… and than took a 5000-mile trip to see how well his design actually worked. You can read all about the bus and the trip on his website Hank Bought a Bus.
The Double-Decker: Just as a double-decker bus can transport a lot more people at one time, a double-decker bus house can shelter a larger family… or, at least, give the family more room to move. And that room comes much cheaper than in a conventional house, as British couple Daniel and Stacy Bond discovered. Check out their two-tiered bus house, and their story, in the video below (via Mail Online)
https://www.youtube.com/watch?v=GX2mWi3CG2o]
The Bus as "Blank Canvas" for a Home: Richard and Rachel (no last name given) treated the school bus he bought for $3000 as a "blank canvas" to create a life and a lifestyle. With a solar array, very efficient appliances, and composting toilet (so far, anyway), the May Blue Bus costs the couple about $100 a month to run… and they're also mortgage-free (which, of course, means they have to save up for further renovations). Learn more about the project in the 18 minute video below (via faircompanies.com)
The Steampunk Bus House: No reason you can't bring a bit of your own personality and interests into your rolling home, as we've seen already. Jake von Slatt went in a different direction from most: his bus house highlights his love of the Victorian era, and "Steampunk" (think Victorian cyberpunk). Jake also created a video with both background and a walkthough… it's considerably shorter than the last one, too! (via The Steampunk Workshop)
The City Bus Gets Fashionable: No, not all bus homes are rehabbed school buses (though I'd imagine they're the most common – see Jake's explanation at the beginning of his video). Our friends over at sister site Gas 2.0 discovered a converted city bus in Israel. Tally Saul and Hagit Morevski took their inspiration for the bus' interior redesign from fashion magazine… and, yes, as you can see at the original photo gallery, a typical city bus can get quite stylish with the right touch… The downside to this choice (at least if you tried it in the US) is that I'm guessing it's too long for RV status.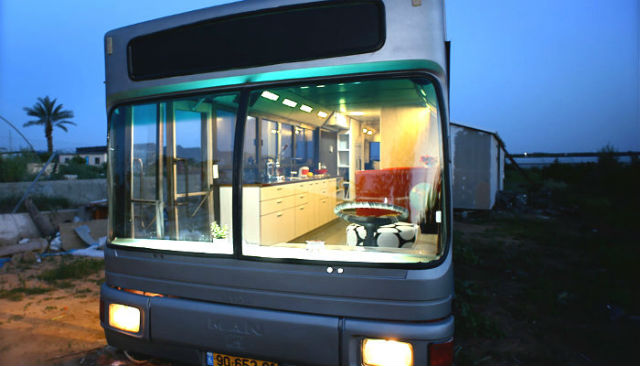 Like wood?: Somebody involved in the transformation of this bus sure did – all that wood gives it a definite "man-cave" feel. You know what else does? There's no bathroom (because a man in this kind of setting doesn't mind taking care of his business in the great outdoors!). Seriously, though, this is gorgeous… check out the full gallery of photos at WPI Creative.
And, finally, the Big Family of Hippies Living in a Bus: You knew it was coming… OK, "hippies" can come off as derogatory, but there's definitely quite a bit of free spirit involved in Eliza Brownhome (that's the bus' name… see what I mean?). Eliza's gorgeous, though, and BlueBirdMama did quite a nice job of tracking the progress of her 10-year transformation from school bus to home to family of 5. Check out the galleries of photos, as well as an FAQ for the potential bu-liver, and a collection of Eliza stories.
OK, your turn. Ever converted a bus into a home (or tried to do so)? What challenges did you face? Know of other good examples of bus houses? Share them with us…