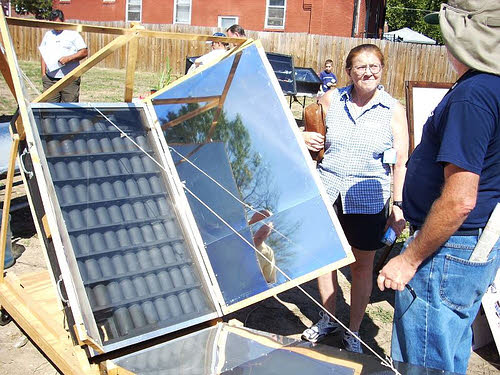 We're finally cooling off after a brutal Summer here in St. Louis. While I'm thoroughly enjoying the temperatures in the 60s and 70s, they're a good reminder that Winter will be here soon, and that we'll be paying to heat the home.
That got me thinking about a concept I first encountered a couple of years ago: the soda can solar heater. Very similar in design to Gary Reysa's thermosiphon air collector, this concept uses aluminum cans to build columns that collect and transfer heat from the sun. While I've come across a number of variations on the concept, most tinkerers who've tried this project point to Rich Allen's video walk-through of building one of these heaters as their starting point.
Rich has played with his own approach; a later video shares his "final thoughts" on building one of these solar air heaters after making a number of them. Some other directions (or partial directions) I've found:
I probably won't try this myself; I can't imagine trying to install this on my brick home. But I'd love to hear from those of you who have tried projects like these. I'm guessing it would function much like a solar water heater in the sense that it doesn't necessarily provide all the hot air you need/want, but keeps the main furnace system from working nearly as hard as normal.
Image credit: westbywest via photo pin cc