In 2015, Tetra Pak, headquartered in Lund, Sweden, pioneered its Tetra Rex packaging, the world's first food packaging made from 100% renewable products and 100% recyclable materials. The cardboard that constitutes 75% of each container is manufactured from sustainable forest products and are certified by the Forest Stewardship Council. Each container bears the FSC imprint, assuring customers that they are buying products that protect the environment as well as the food inside.
Each carton has a liner that is impermeable to liquids — an inner layer of polypropylene made from ethanol. When the cartons are recycled, the wood fiber and the polypropylene are all recovered and can be used again. The Tetra Rex also has an innovative plastic spout and twist off cap derived from sugar cane. In September, 2015, the Tetra Rex containers received the highest award for Sustainable Innovation from Ethical Corporation.
Tetra Pak founder Ruben Rausing began experimenting with cardboard containers in 1943. In 1951 he incorporated the company, which is now the world's leading food processing and packaging solutions company. It has 23,460 employees and distributes its products in more than 130 countries. It has 6 research and development centers, 82 sales offices and 37 production facilities.
On a recent trip to Tetra Pak headquarters, I met first hand with Mario Abreu, Tetra Pak's vice president for environmental affairs, and Omer Emran, product manager for environmental innovation. Mario explained to me how the Tetra Rex package is recycled to recapture the wood fibers and bioplastics for re-use. The process is both simple and cost effective.
First the empty containers are immersed in a water bath. Then a device like an enormous blender spins the mixture. The wood fibers dissolve and are drawn off. The  plastics remain and can be recycled. Tetra Pak is dedicated to recycling and has assisted local governments around the world in setting up recycling programs. In the United States, it is a founding member of the Carton Council, which is dedicated to diverting cardboard containers from landfills.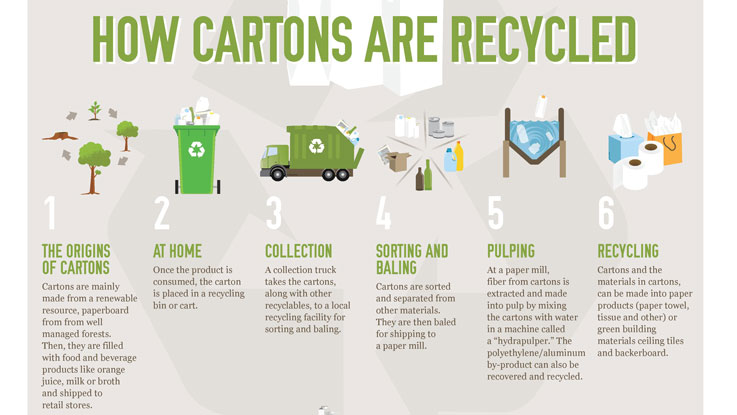 The Tetra Pak motto is "Protecting What's Good". Part of that protection is making sure the products inside its packages are pure and wholesome. It's also about being a good steward of the environment and helping its customers compete successfully in the global economy. It encourages those who use its products to subscribe to the same sustainability standards it does and conducts independent, third party audits to verify compliance with those principles.
Tetra Pak is a model for how any large corporation can be profitable and maintain high standards for sustainability and environmental protection at the same time. It sets the standard for ethical business practices.
Photo by the author and Tetra Pak.
This post was made possible by the generous support of Tetra Pak, which provided transportation, meals, and lodging for the author.