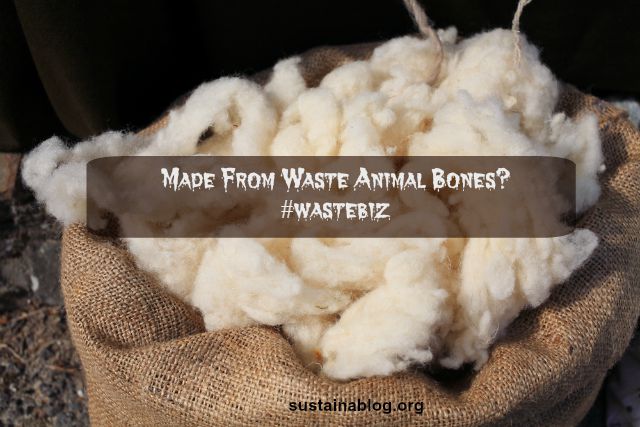 What happens to animal parts like ligaments and bones after the meat's been taken off them at a slaughterhouse? Much of it gets reused in some manner: products like glue and animal feed may come from materials deemed unfit for human consumption. But what if you have a chance to wear materials made from such ingredients? We're not talking about anything remotely like a Lady Gaga-style meat dress – just artificial wool made from slaughterhouse waste.
Swiss Ph.D. student Philipp Stössel has developed such a material: "a new fiber from the leftover bones and ligaments of animals that, when converted to gelatin and spun into fibers, can be knitted or woven into a soft wool alternative." The fiber still has at least one fairly major technical challenge – it doesn't hold up well in water – but, assuming that could be overcome, Stössel may be onto another promising alternative for slaughterhouse waste.
The People for the Ethical Treatment of Animals (PETA) aren't having it, though: President Ingrid Newkirk told the Christian Science Monitor "It's creepy to wear the gelatin that oozes out of animal bones in any form, but even worse, perhaps, than how it must feel psychologically to drape yourself in animal remains is that buying this clothing supports a gruesome industry that inflicts fear and pain on other sentient beings like us."
Obviously, PETA has its own agenda, and its claims – like any activist group – have to be considered in that context. But is Newkirk on to something? Would "wool" made from animal ligaments be just a little too much for most people? Or do you think most of us could get past that (if we even bothered to find out)? Another use for such waste couldn't be a bad thing… could it?
Let us know if you'd wear such a material, and share your other thoughts about this development in the comments below.
More news from the waste business:
Waste Management touting "green cred" with natural gas powered trucks: Waste Management President and CEO Dave Steiner talked to Bloomberg TV about its purchasing and use of natural gas-powered trucks. Apparently, the cut the company's carbon emissions and its costs, as CNG is cheaper than diesel. I wonder if a next step involves compressed biogas from landfills – that would be huge. (via Waste Dive)
Heating a hospital with Guinness? Not exactly, but developers of a new children's hospital in Dublin, Ireland are exploring the idea of using waste heat and hot water from the nearby brewery. They emphasize this one's still in the very early stages…
Photo credit: Shutterstock