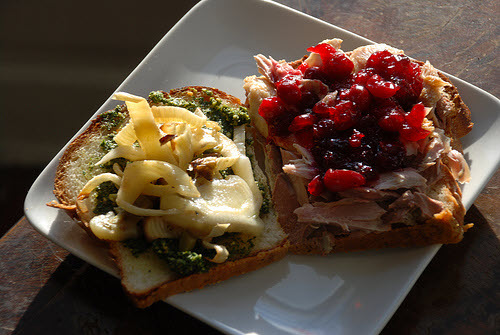 Had enough warmed up sweet potatoes or turkey sandwiches? As a dedicated holiday leftover junkie, I know that after a few days, even the best of the remaining Christmas feast starts to get old. But, if you're like most Americans, you've still got a ton of food in the fridge… and while composting your leftovers is an option (a good one), it still represents a waste of the energy and resources that went into making that meal, as well as a waste of the food itself.
So, just choke down another sandwich? You could, but you don't have to: British site Love Food Hate Waste collects some of the most useful and creative approaches to fighting food wastes that I've ever seen. Got leftover mashed potatoes that you're thinking of dumping? You can search by the type of ingredient you want to use up, and find recipes like Hara bhara kebab. User submitted tips cover the best practices for storing certain foods for the short or long term. And the "Perfect Portions" tool helps you avoid waste at the preparation stage, by showing you how to plan portions that won't result in large amounts of leftovers.
I just came across the site this morning, and am still digging around… looks like a tremendous resource! If you're more familiar with it, feel free to point out favorite recipes or tips.
Image credit: kthread at Flickr under a Creative Commons license