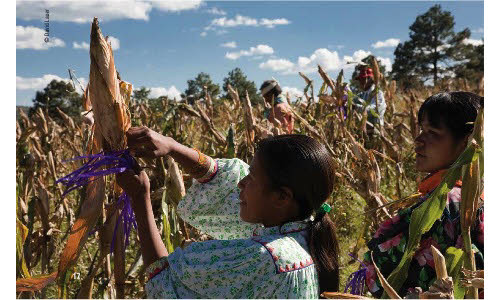 Editor's note: If you missed any of the previous posts in this series, they're all available here.
By Tory Field and Beverly Bell
We, women from more than 40 countries, from different indigenous peoples of Africa, the Americas, Europe, Asia and Oceania, have gathered together to participate in the creation of a new right: the right to food sovereignty. We reaffirm our will to act to change the capitalist and patriarchal world which puts the interests of the market before the rights of people. We will find the energy to establish our right to food sovereignty, carrier of hope in constructing another world. We will carry this message to women all over the world.

– Women's Declaration on Food Sovereignty (excerpted), Nyéléni, Mali, February 27, 2007
Women produce 60 to 80 percent of all food, both as subsistence farmers and as agricultural wage laborers. They are the primary providers for the majority of the world's 925 million hungry people, obtaining food, collecting firewood and water, and cooking. And yet they have less access to land and the resources necessary to grow on it than their male counterparts. Inequitable distribution of land, labor, and resources leaves farming women triply burdened by work: in the fields, in the home, and in society.
How do the agricultural policies of powerful governments and international institutions affect women? They often exacerbate gender norms and force women globally to bear the brunt of harmful changes. In the US, a corporate agribusiness model leads to violations of women's rights in all aspects of the food system. We have adapted the following from Gender Action's 2011 report on gender and the food crisis:
Local and domestic agricultural markets in many countries are often devastated by global trade policies engineered by governments like the United States and by international financial institutions (IFIs). In country after country, for instance, such policies make it possible for subsidized US agricultural products to flood domestic markets and undercut local producers. This dynamic often forces men to travel to other countries in search of work, leaving women behind to tend to family and work family farmland;
The same dynamic often leads women to migrate alone or with children, undergoing dangerous border crossings, facing a fragile and transient existence as undocumented immigrants in the US, and dealing with the very real threat of deportation. All these circumstances put women at heightened risk of gender-based violence and give them a disproportionate burden of running (often singly) households in an unfamiliar and hostile environment;
 IFI pressure on many governments to abolish taxes on food imports and repay debts reduces governments' ability to pay for healthcare and education. Spending cuts in these sectors inevitably cause the most harm to women and girls;
Rising food prices put additional pressure on already strained household budgets. When women enter the formal work force to help support household consumption, girls are often forced to leave school to attend to household chores and care for younger siblings;
Agricultural investments from large international aid agencies and IFIs usually support big businesses, not women farmers. IFI investments tend to focus on agroprocessing and commercial agriculture, which mainly utilize male laborers and focus on external markets. These investments tend to overlook women, who are often restricted to subsistence farming, and instead mainly benefit the transnational corporations that win IFI procurement contracts;
Women workers in the US food system systematically receive lower wages and face harassment and gender-based violence.
Though facing difficult challenges, women around the world have been making strides both in changing national policy and land movements themselves. In some places, women are gaining greater access to arable land, technology, credit, markets, training, equipment, and control over agricultural knowledge. In certain countries, they have won the right for their name, not just their husband's, to go on the land title, making them direct beneficiaries of land reform.
Next: The Food Sovereignty Movement and the Role of Women
Image: In the Mexican state of Chihuahua, Rarámuri women choose corn to save for next year's planting. They just finished participating in a farmer-to-farmer workshop on seed selection. Photo © David Lauer.