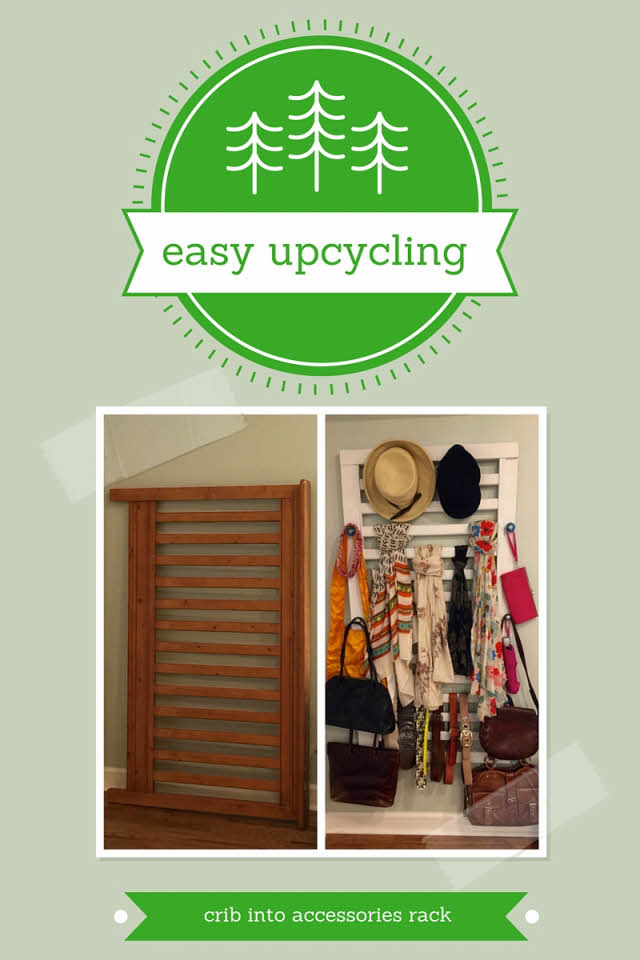 By Jennifer Tuohy
Regular readers of this #Easyupcycling column may recall how I upcycled my old crib into a porch swing earlier this year:
Cribs are hard to re-sell and difficult to store. And, with modern safety guidelines, it's unlikely your child is going to want to use it for his or her future offspring. So I was thrilled to find a long-lasting way to re-use this potential heirloom. However, I was left with a large piece that I didn't need in the swing, and solid oak is simply too good to put on the scrap heap.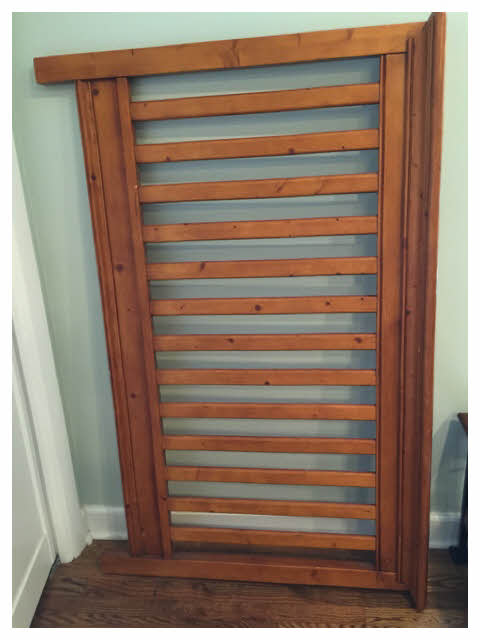 After pondering the best use for this item (Drying rack? Pot rack? Bookshelf?), I thought about my biggest need and arrived in front of my closet.
Despite my better efforts and an incredibly useful closet insert, I find it hard to control the clutter. It's not the clothes so much, or the shoes; it's the accessories. Scarves, belts, hats, handbags—they all end up in a pile at the bottom of the closet. The old adage "Out of sight is out of mind," is even more true when it comes to clothing, and when these accessories disappear into the darkest recesses of my closet, they end up never getting worn. What I needed was an accessories rack, something that would organize and display the items so I could easily see what I own.
I zeroed in on an empty spot on the bedroom wall that was in need of some decor. Within easy reach of the closet, the space was just the right size to fit the last remaining piece of my crib. Here's how I went about turning my old crib into a closet accessory rack:
Supplies
Primer (I used a spray paint primer)
Satin gloss interior paint
Knobs or hooks for hanging bags and hats
Drywall anchors to attach the rack to the wall
Tools
Circular saw for trimming the crib side to the right dimensions
Screwdriver for attaching the knobs
Drill for making holes in the crib for the knobs
Paint brush
Step 1: Remove the extra pieces on the crib with a circular saw, leaving a symmetrical rack.
Step 2: Prime the crib for painting by applying two coats of spray primer. (For tips on efficient spray painting, see here.)
Step 3: Apply a thin coat of satin gloss paint and leave the piece to dry overnight.
Step 4: Select some attractive drawer pulls to use as knobs for hanging items, and also to provide a bit of visual appeal. Hooks would also work well if you have lots of small items you want to hang.
Step 5: Drill holes for each knob and use a screwdriver to attach the knobs to the rack.
Step 6: Using drywall anchors with long screws that match the small holes, drill into the back of the rack, mounting the finished piece to the wall.
Step 7: My favorite part! Hang all your scarves and belts through the crib's slats, and place hats and handbags on the knobs.
Finished: The rack is surprisingly roomy and holds all my accessories neatly and within easy reach. As a bonus, it has really freed up a lot of shelves in my closet that were previously cluttered and disorganized. Now I just need to go shopping to fill those up!
Jennifer Tuohy is an innovative upcycler who lives in Charleston, S.C., and writes about her DIY projects for The Home Depot. Her closet-accessory-from-crib is just one of many home storage solutions she's been creating recently. For other storage ideas available via Home Depot's website, you can click here.