Keyboards come and go. They are just one of those items that you are more likely to go through than other electronic hardware, such as earphones or mice. It is an accessory, and unless you really invest in something high end you will probably occasionally make replacements.
But that creates a lot of waste. There is plastic, metal and rubber, none of which is biodegradable, and it can be hard to find local recycling centers that take those materials. That is why more and more people try to reuse their keyboards in other ways. In fact, upcycling can be pretty simple, especially parts like the keys.
Check out these 10 excellent ideas for upcycling keyboards.
This cute little choker seems like the perfect accessory for every tech-savvy teen girl (which is most of them, now days). The keys can spell out anything, though in this case they used a netspeak version of "g33k," which was a nice touch. It might also look great on a black piece of lace rather than the knitted band.
2. Bench
An incredible piece of art and a very creative use of recycled materials, this bench has been part of an exhibition for some time. It was made by artist Nolan Herbut. But it is more than just
some keys pasted to a bench. He handmade the unique frame from Baltic birch wood and then attached the keys. They click when you sit down or touch them, just as if you were typing. There are 2,000 keys in all.
Geek chic has remained in style for several years now, and it isn't likely to go away. Part of this is due to the changing ideas of what "geek" really means. These purses embody the concept while being quite stylish. There have been a lot of these made recently, and they make pretty sturdy bags.
Further adding to your accessories collection, you could make this belt. It is a standard long buckle in this instance, but you could adapt any style to fit it. The keys have just been attached to the front, which would have to be done carefully. Otherwise it would be impossible to buckle the belt without breaking off the keys in the process.
5. Earrings
These great earrings were made from the thin that you can find under the keys. This jewelry maker used the pattern already in the plastic and then molded and hardened them into a circular shape.
Have you seen the price of those hairpins with little ornaments on the end? A simple bobby pin with a butterfly can be $5 for a set. Why not just make these? Depending on what keys you use, you can really make a statement. I like the idea of using Insert and Delete or Enter and Backspace.
Every desk should have a cup for pens and pencils, because those items have a tendency to migrate and end up all over the house or office. Always know where yours are with this creative creation. While this one looks like the keys were pasted to another cup, you could probably make one only using keys and some kind of simple base like a cardboard square.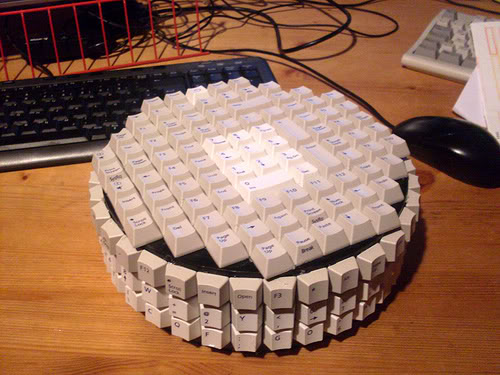 With all of that new jewelry, you are going to need a box to put it in. How about you use any leftover keys and make one? This person has just taken a simple tin – such as you would get with those stale Christmas cookies someone inevitably sends – and pasted keys to the surface.
9. Picture Frame
A frame is very easy to make. This is a good desk accessory to go along with that keyboard pencil cup. I like the idea of spelling things out along the frame, which this crafter didn't do. Names, adjectives, even sweet little things like "love forever" are possible here. Plus, keyboard keys are easy to paint.
T-shirts with stand-out graphics are common, and there are a lot that come with Lego shapes and other similar items. This is a really cool way to decorate a shirt with anything you could think of – especially if you keep the letters intact, as you can write messages along the front.
Keyboard keys make a brilliant craft item that you can use for just about anything. The other parts, such as the circuitboard, can also be appropriated, as we have now seen. So don't throw that broken keyboard away; just upcycle it. It's fun, functional, stylish and good for the environment.